pursuits
Hong Kong Billionaire Lau Buys Record $48 Million Diamond
By , , and
Lau renamed it "The Blue Moon of Josephine" after his daughter

Lau also bought her a diamond for $28.6 million day before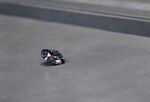 Hong Kong billionaire Joseph Lau paid 48.6 million Swiss francs ($48.4 million) Wednesday night at Sotheby's in Geneva for a 12.03-carat blue diamond, the most ever spent on a jewel at auction.
Lau's record-breaking purchase came a day after he paid 28.7 million francs for a 16.08-carat pink diamond at a sale by Christie's in Geneva, said a spokesperson at Chinese Estates Holdings, the property company he controls in Hong Kong. Both purchases were made for his 7-year-old daughter Josephine, his office said.

Known as the "Blue Moon", the record-breaking gem had a pre-sale estimate of 34.2 million francs to 53.7 million francs, according to the Sotheby's website, and has the highest possible color grade of fancy vivid blue. Lau renamed it "The Blue Moon of Josephine" and christened the pink diamond, "Sweet Josephine."
Lau has a history of extravagant purchases. In 2007 he paid $39.2 million for Paul Gauguin's Te Poipoi, a painting of a Tahitian scene at Sotheby's New York auction. Last year he bought pieces of jewelry for his 13-year-old daughter Zoe, the 9.75-carat "Zoe Diamond" for $32.6 million at Sotheby's New York, and the "Zoe Red" ruby for HK$65 million ($8.4 million) at Christie's Hong Kong.
Lau stepped down as chairman of Chinese Estates in March 2014 after he was convicted in Macau for bribery and money laundering in connection with land secured for a luxury housing project. Lau, who did not attend the trial, was sentenced to five years and three months in prison. As Hong Kong and Macau do not have an extradition treaty, he remains free.

"The Blue Moon of Josephine," was polished out of a 29.62-carat rough diamond found by Petra Diamonds Ltd. at the Cullinan mine in South Africa. Cora International, a New York-based gemcutter, purchased the diamond and took more than six months to prepare the stone.
Blue diamonds develop when boron mixes with carbon when the gem is formed.
The "Sweet Josephine" is set on a ring and surrounded by rings of white and pink diamonds, and was the largest cushion-shaped fancy vivid pink diamond ever put on the auction block. Christie's estimated the stone was worth $23 million to $28 million.
Sotheby's renounced a previous claim to a record auction price for a gem in 2013 after bidder Isaac Wolf couldn't pay the $83 million he bid for a pink diamond.
— With assistance by Daniela Wei
(Updates to add buyer's name in first paragraph.)
Before it's here, it's on the Bloomberg Terminal.
LEARN MORE