Aussie Economist Who Saw Jobless Drop Says Next Rate Move Up
by
Data starting to support RBA's glass-half-full view of economy

Traders pare bets central bank will cut rate in next 6 months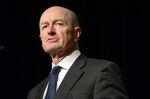 The next move in Australia's benchmark interest rate is up, not down, says the economist with the best forecast on Thursday's surprisingly strong jobs report.
Stephen Koukoulas, an adviser in former Prime Minister Julia Gillard's administration, says a fall in the unemployment rate, improved confidence and the benefit of a weaker currency suggest the economy's outlook is improving.
"Growth is probably going to be closer to 3 percent next year and I think the next interest-rate move will be up," said Koukoulas, who is now managing director of Canberra-based Market Economics Pty. His prediction of a 6 percent jobless rate was closest to the 5.9 percent reported. "The rash of firing in the bureaucracy seems to have come to an end and labor-intensive industries like retail and housing construction are doing OK."
Reserve Bank of Australia Governor Glenn Stevens has been a voice in the wilderness in the past two years with his glass-half-full view of Australia's economy, even as growth slowed, unemployment rose and he was forced to cut the cash rate to a record-low 2 percent. The central bank chief argued that given the unwinding of an unprecedented mining investment boom, the economy was holding up relatively well. Now the numbers are starting to support him.
Sentiment Surge
Consumer confidence has surged in the past two months with optimists now outnumbering pessimists after Prime Minister Malcolm Turnbull deposed his unpopular predecessor, Tony Abbott, in mid-September. The reconstituted government has placed growing the economy through innovation, rising productivity and a rebalancing of the tax system at the center of its agenda.
Industries have also been aided by a 30 percent depreciation in the currency over the past three years that has improved the competitiveness of firms including small manufacturers, education providers, tourism operators and retailers.
Data Thursday showed the economy added 58,600 jobs in October, the most in 3 1/2 years. In the first 10 months of the year, employers have added 231,700 workers, setting the labor force on track for its biggest annual gain since 2010.
Jobs Upswing
"We are likely to see an upswing in seasonal part-time and casual jobs as we approach the end of the year – particularly in retail and hospitality," said Steve Shepherd, an employment analyst at recruitment firm Randstad Pty. "Across the country, some sectors are already performing particularly strongly including hospitality, health care, education, IT construction, design and architecture, and trades."

The RBA, in its quarterly Statement on Monetary Policy released last week, forecast growth would accelerate to 3 percent in 2016 from 2.25 percent this year. It's betting on higher confidence and rising employment to encourage households to increase spending and save less.
Koukoulas forecasts the central bank will raise rates by a quarter point to 2.25 percent in the third quarter of 2016, along with economists at Societe Generale and BT Financial Group. He expects another increase in the final quarter of 2016.
Low Inflation
A key element that is likely to hold the central bank back from raising rates too early is very low inflation and its estimate the economy is only about halfway through the unwinding of mining investment. The risks of a sharper slowdown in China may also deter the RBA from tightening policy.
Still, the prospects of another policy easing in coming months have diminished. Traders now see a 35 percent chance of a rate cut in the next six months, down from more than 60 percent before the jobs data were released, according to swaps data compiled by Bloomberg.
"The labor market is currently surpassing even the RBA's expectations," said Sydney-based Paul Dales, chief Australia and New Zealand economist at Capital Economics. "We have to admit that if this strengthening of the labor market is sustained, the chances of rates falling to 1.5 percent next year, as we have been forecasting, are slimmer."
Before it's here, it's on the Bloomberg Terminal.
LEARN MORE