Stocks Tumble as Bonds Rise on Global Growth Woes; Oil Slides
by and
Retailers slump on sales data while Cisco slides on earnings

S&P 500 halts six-week rally with worst week since August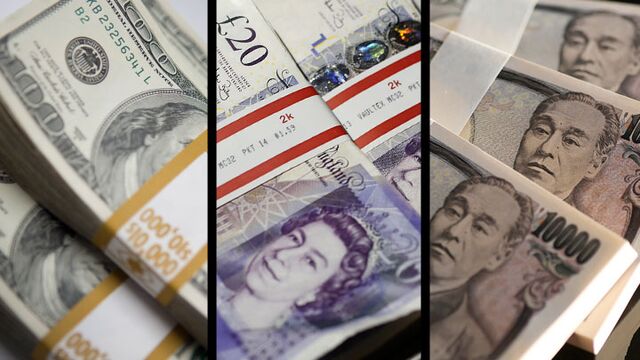 Deteriorating growth outlooks in Asia and Europe and weaker-than-forecast U.S. retail sales dragged stocks lower while Treasuries gained. Oil dropped to extend a selloff in commodities.
U.S. stocks capped their worst week since August amid concern growth remains uneven as policy makers consider raising interest rates as soon as next month. European shares tumbled after growth in the region missed analysts' estimates. Treasuries rose, pushing yields to the lowest in a week. Oil slid in New York, trading near a two-month low.
"There are still ongoing concerns about slowing economic growth," said Patrick Spencer, equities vice chairman at Robert W. Baird & Co. in London. "The higher dollar, higher rates and slower growth make investors worry, and the numbers in China haven't been so great lately."
Gross domestic product in the euro area rose 0.3 percent in the third quarter, data showed Friday, down from 0.4 percent in the previous period, which was also the median estimate of economists in a Bloomberg survey. Sales at U.S. retailers rose less than forecast in October as consumers pocketed the money saved after fueling up their cars.
Investors are getting divergent signals on monetary policy around the world. While some Federal Reserve officials are making the case for policy tightening, European Central Bank President Mario Draghi hinted at adding stimulus. 
Expectation the U.S. will raise interest rates in December is strengthening the dollar and cutting the appeal of raw materials. Prices of everything from gold to oil to copper are getting hammered. There are also fresh signs that government stimulus is doing little to stem the worst economic slowdown in a generation in China, the biggest consumer of energy, metals and grains.
Stocks
The Standard & Poor's 500 Index slipped 1.1 percent, falling below its average price for the past 100 days. The index retreated 1.4 percent Thursday, below the 200-day moving average, and had its first weekly drop in seven, down 3.6 percent.
The Nasdaq 100 Index tumbled 1.9 percent as Cisco Systems Inc. pulled technology stocks lower, sliding 6.1 percent after giving a profit forecast that fell short of analyst projections.
Nordstrom Inc. dropped 17 percent after cutting its forecast and posting quarterly sales that missed analyst targets. Fossil Group Inc. plummeted 35 percent after its sales missed analysts' estimates.
Consumers are showing some caution going into the key holiday-shopping season even as hiring reached a 10-month high in October and subdued prices at the pump support household budgets. The possibility of the Fed's first increase in the benchmark interest rate since 2006, in addition to the fluctuations in stock prices, could limit Americans' enthusiasm for shopping sprees.
"The takeaway from today's retail data is more concern about the pace and magnitude of any Fed rate hike cycle on a still uneven growth experience in the economy," said Eric Wiegand, senior portfolio manager at the Private Client Reserve of US Bank in New York.
Raw-material companies rebounded from earlier declines, gaining 1.2 percent for the best performance among 10 groups in the S&P 500. Energy shares briefly erased a loss of as much as 1.6 percent before resuming declines to end lower by 0.6 percent.
The Stoxx Europe 600 Index fell 0.8 percent, capping a 2.7 percent slide in the week. Retailers and household-goods producers were the biggest drag on the index on Friday.
Emerging Markets
The MSCI Emerging Markets Index slid 1.7 percent, taking this week's loss to 3.9 percent, the biggest drop since the period ended Sept. 25. Currencies declined as the worsening commodities rout and slowing credit growth in China undermined the outlook for global economic expansion and trade. The Colombian peso slumped to a six-week low, leading currencies lower.
The Hang Seng China Enterprises Index sank 2.1 percent and the Shanghai Composite Index dropped 1.4 percent. Exchanges said they will double the margin requirement for buying stocks. Indian equities fell 1 percent after inflation accelerated in October. The nation's stock markets were closed for regular trading on Wednesday and Thursday.
Commodities
West Texas Intermediate crude lost 2.4 percent to settle at $40.74 a barrel as a global energy advisory group said stockpiles in developed nations have reached a record and U.S. crude supplies rose.
Oil inventories have swollen to a record of almost 3 billion barrels because of strong output in OPEC and elsewhere, the International Energy Agency said in a report on Friday. U.S. supplies climbed to 487 million last week, the most for this time of year in more than 80 years, according to U.S. government data.
The Bloomberg Commodity Index capped a 3.3 percent drop this week, the most since July and the fifth consecutive decline. Copper extended this week's slump to a six-year low on mounting concerns that a slowdown in Chinese demand will compound a global metals glut.
Gold was near a five-year low as investors sold bullion-backed funds on expectations that a U.S. rate increase will happen this year, damping the appeal of the metal. Bullion for immediate delivery retreated 0.2 percent to $1,082.75 an ounce.
U.S. natural gas futures rebounded 4.5 percent to settle at $2.361 per million British thermal units in New York, after dropping the previous three days amid an unusually mild November. It closed the week down 1 cent.
Currencies
The dollar climbed versus most of its 16 major peers on speculation that weaker-than-forecast U.S. economic reports won't stop the Fed from raising interest rates in December.
The dollar rose 0.1 percent to 122.669 yen. The euro dropped 0.6 percent to $1.07481. It touched $1.0675 on Nov. 10, the least since April 23.
Bonds
Treasuries rose, pushing yields to the lowest in a week, after data showed U.S. retail sales increased less than expected in October and producer prices unexpectedly declined. Traders are parsing every piece of economic data for hints about whether the Fed will deem the U.S. strong enough to boost interest rates when policy makers meet in December.
U.S. 10-year note yields fell four basis points to 2.27 percent, according to Bloomberg Bond Trader data, after touching the lowest since Nov. 6.
Before it's here, it's on the Bloomberg Terminal.
LEARN MORE