Buy, Sell, Hang on Your Wall
ArtRank gives art the stock market treatment.
By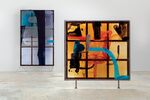 In 2014, Carlos Rivera, a young gallerist in Los Angeles with some hedge fund experience, started a website called sellyoulater.com. It offered something offensive to most serious artists and gallerists: a simple guide for how to make the most money possible buying and selling art.
It took off immediately. The site displayed an unadorned spreadsheet, with artists' names ranked under headings indicating their investment potential. Dan Colen, Walead Beshty, and David Ostrowski, whose mixed media works sell for five or six figures, found themselves categorized as "peaking." Banksy, anonymous yet overexposed, topped the "liquidate" column. Soon after Rivera started the site, he changed its name to ArtRank—a less provocative and, he thought, more professional choice.
Rivera says ArtRank helps new collectors make sound investments in a market that can be extremely lucrative but also maddeningly opaque. Gallerists typically control access to a work, so unless buyers have the right connections, they have no way of knowing whose pieces are selling and for how much. Art advisers take their cues from observing which collectors are at which openings, which artists get prestigious residencies, and which auction houses or fairs sell an artist's work. It's all very cyclical and insidery, making the market prone to volatility.
Rivera's team uses these bits of information, as well as any data it can glean from an artist's CV and other publicly available records (her alma mater, her online presence, auction results), and feeds them into an algorithm that spits out final rankings. These are released quarterly in three waves: initially limited to 10 subscribers such as collectors, curators, and art investment fund managers, who pay $3,500 each quarter to receive the list first. Three weeks later, the site sends out the same information to all 8,000 subscribers who sign up for free. After an additional three days, the list is posted online for anyone to see. So far, the company is tracking more than 40,000 people.
Art adviser Heather Flow says ArtRank appeals to "flippers"—buyers more interested in selling at a profit than building a collection. The artists on Rivera's lists are less than pleased. None would agree to speak on the record. One person on the "early blue chip" list found the site's premise preposterous. "Artists are not trying to meet sales goals," he says.
Still, the boldly transactional nature of the Internet has created cracks in the gallery system. There are now more than 40 companies facilitating the sale of works online. Artsy, a website with venture capital backing, uses an algorithm similar to the music streaming site Pandora to help patrons discover which works they might like to buy. Users can browse by such terms as "political," "visual perception," and "minimalism" and buy directly from the site. (ArtRank only briefly offered works for sale. The site is funded by Rivera's other business ventures, including a company that allows people to leverage art for loans and doesn't make money on its own.)
One ArtRank subscriber, an entrepreneur who asked not to be named so his friends in the art world wouldn't know he uses the service, says he spends about $50,000 a month on purchases. He says he feels capable of discerning patterns among more established artists through auction records and other public information, but he found news about emerging artists elusive. "There's so much volatility right now," he says.
Artist Wyatt Burns, who publicly mocked the site when it first appeared, now says he sees why it might be useful. "Art advising has been around forever, so I think it was natural that a company like ArtRank brought it into the 21st century," he says. "It's crude, but it's going to happen either way, so at least we get to see a little of what is going on behind closed doors."
Before it's here, it's on the Bloomberg Terminal.
LEARN MORE