Warhol's 'Four Marilyns' Tops Christie's Sale Showing Restraint
by
Steven Cohen's Fontana painting fetches $29.2 million

Christie's two-day sale amounts to 41% drop from May auctions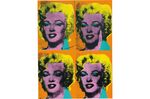 Lucio Fontana's egg-shaped painting sold by billionaire Steven A. Cohen fetched $29.2 million Tuesday evening, one of the top three lots auctioned at Christie's where bidders showed restraint for overpriced works.
The contemporary art auction tally of $331.8 million surpassed the presale target of $316 million. Coupled with a special "The Artist's Muse" sale on Monday evening, Christie's sold a total of $823 million in two days. That's a drop from the $852.9 million evening sale last November, and a 41 percent decline from two similar evening sales in May. Of 66 lots offered Tuesday, 80 percent found buyers.
Wealthy collectors focused on masterpieces by blue-chip artists. Andy Warhol's "Four Marilyns," which was painted in 1962, was the top seller of the night at $36 million -- about $2 million less than it sold for at auction two years ago. The sales that began last week at auction houses in New York, with more than $2.1 billion of art on offer, are the biggest test of the trade since stocks tumbled in August and September, unnerving investors.
"There is a general unease in the market," said Kristine Bell, a partner at David Zwirner gallery in New York and London. "People are waiting for the other shoe to drop. We've been talking about this for a while but now it seems like a real possibility."
Warhol's "Four Marilyns" sold below the target of around $40 million to $60 million to a lone bidder, a client of Rebecca Wei, president of Christie's Asia, excluding China. The painting was resold after appearing at Phillips just two years ago when it fetched $38.2 million.
Time for Correction
"It's time for a correction," said Skarlet Smatana, director of the George Economou Collection in Athens. "The estimates don't match the quality of the artworks."
The Warhol work, produced from a widely circulated photograph of Marilyn Monroe, was one of 14 lots whose sellers were guaranteed undisclosed minimum prices by Christie's regardless of the outcome in the sales room. Christie's financed 10 of the guarantees, including the "Four Marilyns."
Lucian Freud's "The Brigadier" was one of the four lots guaranteed by outside investors. The 2003-2004 painting fetched $34.9 million, the second-highest price of the night, surpassing its presale estimate of around $30 million. The work was consigned by the estate of Damon Mezzacappa, former vice chairman of Lazard Freres & Co., who died in April.
Cohen, who founded Point72 Asset Management, was the seller of Fontana's 1964 yolk-hued painting, according to people familiar with the matter. The painting attracted three bidders, including dealers David Nahmad and Dominique Levy. The winner, who bid over the phone, was a client of Xin Li, Christie's deputy chairman in Asia. The price smashed the Italian artist's previous auction record set less than a month ago at Sotheby's in London for a black egg work.
Demand for Quality
"It was the best object tonight," said Smatana. "It's definitely among the top three works Fontana ever made. The color, the composition. It's perfect all around."
At many of the evening auctions starting last week, top-quality objects coupled with appropriate estimates produced strong results. On Monday, Christie's sold Amedeo Modigliani's painting of a reclining nude woman for $170.4 million, the second-highest price for an artwork at auction, to Chinese billionaire Liu Yiqian. Seven bidders chased the painting, a show of strength in the art market, Christie's executives said.
"There's great global demand for great works of art that have rarity, quality and beauty," Jussi Pylkkanen, Christie's global president and auctioneer, said after Monday night's sale.
The auction on Tuesday started with explosive bidding for nine artworks from the collection of the late New York dentist Arthur Kahn and his wife Anita, who died in February. The group included works by Alexander Calder, David Smith and Richard Pousette-Dart. The pieces tallied $47 million, three times the estimate, according to Brett Gorvy, Christie's global head of postwar and contemporary art.
Calder Recession Proof
Calder's hanging mobile "Vertical out of Horizontal" went for $9.6 million, more than three times its high estimate of $3 million. At least five bidders competed for the 1948 work. The winner was a client of Christie's Li.
"Calder is a commodity," said Paul Gray, director of Richard Gray gallery in Chicago and New York. "Dealers feel confident they can resell it. Collectors love it. Calder has been one recession proof artist over the past 30 years."
The Kahn group included a large-scale jewel-toned painting by Pousette-Dart that sold for $2.6 million, a record for the abstract artist. It was one of seven artist records established during the sale.
Louise Bourgeois's giant bronze spider, which has been displayed outside Christie's Rockefeller Center headquarters for the past few weeks, set one of the records. The work, which was backed by Christie's, fetched $28.2 million, with just one bidder, a telephone client of Loic Gouzer, who was recently promoted to deputy chairman of Christie's postwar and contemporary department.
Unsold lots included Joan Mitchell's 1956 abstract painting, featuring a forest palette and estimated at $6 million to $9 million. Four paintings by Warhol also went unsold, with a combined low estimate of $20.2 million.
"You can't push prices on things that are mid-quality," said Nicholas Maclean, co-owner of Eykyn Maclean gallery in London and New York and former co-head of the Impressionist and modern art department at Christie's. "The market has already been pushed far enough. You can't jack it up season after season."
Before it's here, it's on the Bloomberg Terminal.
LEARN MORE