Valeant, Ackman Lose Bid to Escape Suit Over Allergan Offer
by and
Court loss comes as Valeant drops Philidor, shares sink

Investors allowed to pursue claims of insider trading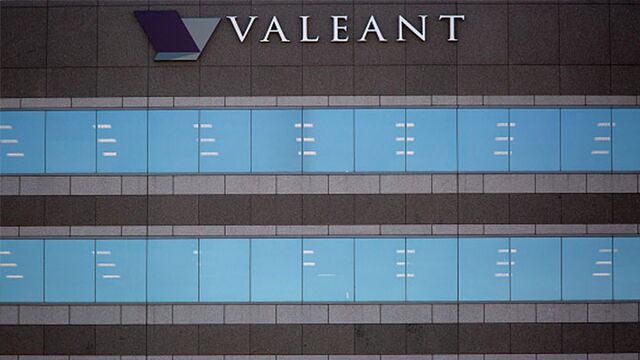 Valeant Pharmaceuticals International Inc. and activist investor Bill Ackman must face a shareholder lawsuit over alleged insider trading involving a failed offer for Allergan Inc.
Since losing out on the Allergan deal, Valeant has run into other troubles. The company terminated its relationship with closely associated mail-order pharmacy Philidor Rx Services after short-seller Citron Research raised questions about it and Bloomberg News reported Philidor altered doctors' prescriptions to wring more reimbursements out of U.S. health insurers.
Ackman has been backing Valeant amid the saga, saying the drugmaker has been "largely a victim of fear and panic" and that the shares have an upside. Ackman's Pershing Square Capital Management is the third-biggest shareholder of Valeant, which has fallen 70 percent since Aug. 5.
In the lawsuit led by the State Teachers Retirement System of Ohio and Iowa Public Employees Retirement System, the plaintiffs claim Ackman and Valeant engaged in a "scheme that deprived a class of Allergan shareholders of billions of dollars of value in violation of the federal securities laws."
10 Percent Stake
Ackman "agreed to secretly acquire nearly 10 percent of Allergan's stock and commit those shares to support Valeant's bid," the shareholders said in court papers in June. The acquisition of that stake came as an "exchange for inside information" on Valeant's hostile takeover and tender offer for Allergan, they said.
The lawsuit, filed as a proposed class action, said Ackman "walked away with over $2.2 billion in pure profit." The Allergan investors say they're owed for the losses avoided by the defendants, as well as any profit resulting from insider trading, according to the complaint.
Allergan rejected each offer Valeant made and agreed instead last year to sell itself to Actavis Plc. Allergan also accused Ackman and Valeant of insider trading in a separate lawsuit. That suit was dropped in April, according to court filings.
Judge's Ruling
U.S. District Judge David Carter in Santa Ana, California, on Monday rejected Valeant and Ackman's bid to dismiss the investor suit. Allergan shareholders in the case had adequately alleged claims against Valeant and Ackman, Carter said.
"We acted at all times in consultation with our legal counsel and remain convinced that our actions complied with the securities laws," Laurie Little, a spokeswoman for Laval Quebec-based Valeant, said in an e-mailed statement. "While we are disappointed the Court allowed the claims to continue following this preliminary motion, we look forward to presenting evidence to establish that we did nothing improper."
Blair Nicholas, a lawyer for the plaintiffs, and Pershing Square spokesman John Pinette declined to comment on the ruling.
The lawsuit was brought as a class action on behalf of investors who sold Allergan shares from Feb. 25, 2014, to April 21, 2014.
"After the close of trading on April 21, 2014, Valeant disclosed its intention to acquire Allergan, along with Pershing's 9.7 percent position in the company," the shareholders said in an amended complaint in June. "Upon this disclosure, Allergan's stock price increased by approximately $20 per share in one day, jumping 22 percent from its 'unaffected' price," the investors said.
Valeant has been one of the drug industry's most prolific acquirers, buying companies, folding in their products, and cutting costs. It has 30 deals pending or completed since 2013, worth more than $25 billion. The company's management team has more recently signaled that strategy could take a back seat while the company focuses on paying off debt.
The case is Basile v. Valeant Pharmaceuticals, 14-cv-02004, U.S. District Court, Central District of California (Santa Ana).
Before it's here, it's on the Bloomberg Terminal.
LEARN MORE