Uruguay's Chinese Car Boom Ends on Cheap Brazil, India Imports
by
Chinese share of nation's car market falls to 17% from 23%

Narrowing price gap favors name-brand autos over China's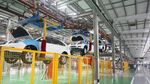 Uruguayans love their beef, wine and cheap Chinese cars that used to account for almost a quarter of new vehicle sales. But competition from low-cost Brazilian and Indian cars has sent Chinese sales into a tailspin this year.
Chinese passenger vehicle sales tumbled almost 34 percent year-on-year during the first 10 months of 2015, compared to a 9 percent decline in the total market, according to data from Uruguayan automotive trade group ACAU.
China's market share in Uruguay, once the highest in Spanish-speaking South America, has plunged with sales. Brands such as BYD, Geely and Chery represented 17 percent of new passenger vehicle sales this year, down from 23 percent in 2014.

The devaluation of the Brazilian real, which has helped Volkswagen and Fiat factories in Brazil, and Suzuki imports from India have forced dealerships to cut prices on Chinese vehicles, Santiago Guelfi, a director at BYD and Peugeot distributor Sadar, said earlier this month.
"Not having a price gap, Chinese cars suffer more because they are young brands that aren't as established in the minds of consumers," Guelfi said.
Suzuki, Volkswagen and Fiat were among the few major brands that have grown sales and market share this year. Suzuki dethroned Chevrolet as the top seller of passenger cars thanks to a 53 percent surge in sales, according to ACAU data.
Before it's here, it's on the Bloomberg Terminal.
LEARN MORE