UniCredit to Cut 14% of Workforce in Bid to Boost Capital
By and
Bank targets CET1 ratio of 11.5% by 2018, up from 10%

Return on equity target cut to 11% from 13% in previous plan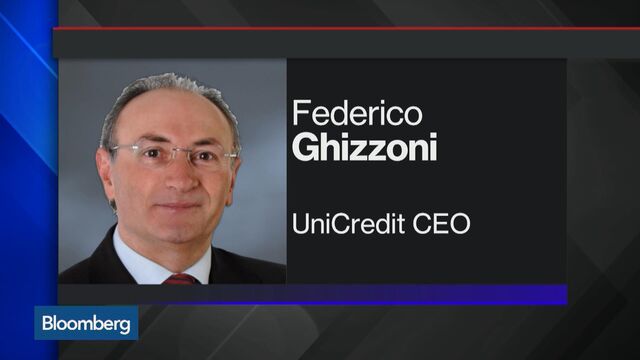 UniCredit SpA plans to cut about 18,200 jobs by 2018 as it seeks to improve returns and expand its capital buffers, setting new goals just a year after the lender revised its strategy.
The job reductions, which represent about 14 percent of the workforce, include about 6,000 positions that will go through the planned sales of UniCredit's Ukraine unit and a stake in Pioneer Global Asset Management SpA. The firm lowered its annual profit target to 5.3 billion euros ($5.7 billion), and set a higher capital target that still lags peers.

Chief Executive Officer Federico Ghizzoni, 60, is joining executives at Deutsche Bank AG and Credit Suisse Group AG in announcing measures to improve profitability as record-low interest rates and increasing capital demands squeeze margins. The CEO, who is revising an overhaul introduced just last year, will concentrate on internal growth as well as businesses that absorb less capital and generate commissions.
It's an "aggressive and strong plan with a huge cost-cutting, higher than market expectations," said Stefano Girola, who helps manage about 25 billion euros at Syz Asset Management SA in Lugano, Switzerland. Still, a capital ratio that's not among the higher-end of peers is disappointing, he said.
UniCredit, Italy's biggest bank, lowered its annual profit target for 2018 to 5.3 billion euros from 6.6 billion euros expected under the earlier plan. Before the new target, analysts were forecasting a 4.9 billion-euro profit on average by 2018.
UniCredit is shooting for a common equity Tier 1 ratio of 11.5 percent, compared with 10 percent previously targeted. Its CET1 ratio stood at 10.5 percent as of Sept. 30. That compares with the 24-bank European average of 11.8 percent, according to data compiled by Bloomberg.
UniCredit will cut positions in Germany, Austria and Italy, the Milan-based bank said in a statement Wednesday as it published third-quarter earnings. Profit fell 30 percent to 507 million euros from a year earlier. Analysts had estimated 431.6 million euros.
The plan addresses "some of the questions coming from the market in a positive way," Ghizzoni said in an interview with Bloomberg Television. "Now we are simply looking at the execution -- that's the most important part."
Quarterly profit was "better than expected but on very low-quality items," Fabrizio Bernardi, an analyst at Fidentiis Equities in Milan, wrote to clients. He noted a tax rate below expectations and a "weak net interest income, in-line fees and much worse trading."
Lower Returns
The firm lowered its target for return on tangible equity to 11 percent from 13 percent in the previous plan. The measure stood at 4.8 percent in the third quarter, the bank said.
UniCredit will either restructure or sell "poorly performing" businesses such as its Austrian retail banking and its Italian leasing unit. It also plans to streamline its structure by assuming direct control of its eastern European operations, currently managed by UniCredit Bank Austria AG.
A presence across Europe after a decade of acquisitions has led to duplication of functions and a costly business mix that in crimping profit; with revenue under pressure, UniCredit's costs swallow up about 61 percent of income. It expects to reduce that to 50 percent by 2018, down from 51 percent previously.
A growing focus on asset and wealth management should allow UniCredit to boost commissions from investment services to 50 percent of the 9.8 billion euros it targets in total fees by 2018, up from about 43 percent of last year's 7.6 billion euros in fees.
UniCredit said it reached a binding agreement with Banco Santander SA to combine their asset management units, Pioneer and Santander Asset Management. The deal is expected to close next year following regulatory approval.
"The lack of surprise at the bottom line is likely to put a lid on near-term share price re-rating," Goldman Sachs Group Inc. analysts Jean-Francois Neuez and Willis Palermo wrote in a note to clients. Successful delivery on the plan could boost shares "over time."