U.S. Stocks Decline Amid Selloff in Retailers, Merger Activity
by
Macy's shares tumble after sales disappoint; Amazon rises

Energy companies retreat as crude slides amid rising supply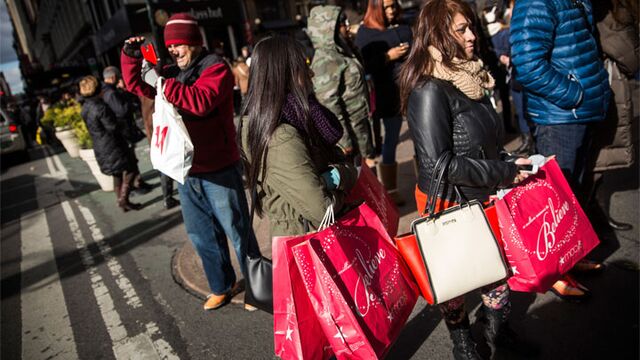 U.S. stocks slipped in quiet trading during the Veterans Day holiday, with merger news and a selloff in retail shares sparked by results from Macy's Inc. capturing the spotlight.
Macy's slumped the most in seven years following a cut in its profit forecast, turning the tables on retailers after they ranked among yesterday's leaders. Apache Corp. tumbled 7.3 percent after rebuffing a buyout offer from Anadarko Petroleum Corp. Molson Coors Brewing Co. rallied 4.4 percent as it stands to benefit from the mega-merger between Anheuser-Busch InBev NV and and SABMiller Plc.
The Standard & Poor's 500 Index fell 0.3 percent to 2,075 at 4 p.m. in New York, after swinging between gains and losses. The Dow Jones Industrial Average lost 55.99 points, or 0.3 percent, to 17,702.22. The Nasdaq Composite Index declined 0.3 percent, and the Russell 2000 Index dropped 0.8 percent. About 6.4 billion shares traded hands on U.S. exchanges, 15 percent below the three-month average.
"We're coming into the end of earnings season," said James Gaul, a portfolio manager at Boston Advisors LLC, which oversees $2.8 billion. "There's a lot of news behind us and not a lot of potentially market-moving news ahead of us in the short term. It seems like it's going to be quiet because there aren't a whole lot of obvious catalysts right now. Today might just be a little bit of a digestion day."

The S&P 500 ended Tuesday up 0.2 percent after a session of fluctuations. The gauge has rebounded after its first correction in four years, coming within 1 percent last week of a record reached in May. A measure of market volatility had its biggest drop ever in October with equities posting their strongest month since 2011 as central banks worldwide pledged to support growth.
Markets have since leveled off as investors assess the potential impact of interest rates that could be higher in the U.S. as soon as next month. Traders are now pricing in a 68 percent chance of an interest-rate increase at the Federal Reserve's next meeting in December, up from 56 percent a week ago before a stronger-than-expected October jobs report.
"Rate expectations for December have ticked up quite a bit," said Veronika Pechlaner, an investment manager based in Jersey, the Channel Islands, who helps oversee $10 billion at Ashburton Investments, part of FirstRand Group. "After the initial weakness following the payroll print, the market is taking it in its stride, and that's good news. It's going to be a wait-and-see development for the market where the positive seasonal trend is fighting with specific action around rates."
As the earnings season draws to a close, 74 percent of S&P 500 members that have reported beat profit expectations, while only 44 percent topped sales projections. Analysts now predict a 3.8 percent drop in profits for companies in the index, an improvement on estimates for a 7.2 percent slide at the start of the season. Cisco Systems Inc., Nordstrom Inc., Kohl's Corp. and Viacom Inc. are among companies scheduled to report on Thursday.
While investors look for clues on the health of the economy, Macy's earnings report did little to inspire optimism in consumers' willingness to spend. Revenue at the the largest U.S. department-store company fell the most since 2010, which the retailer blamed on warm weather and weak traffic trends. Wal-Mart Stores Inc. lost 1.9 percent, and Target Corp. dropped 3 percent.
Macy's Fallout
The fallout from Macy's results and 14 percent drop was widespread. Apparel companies PVH Corp., Ralph Lauren Corp. and Michael Kors Holdings Ltd., with exposure to Macy's sales trends, decreased more than 4.1 percent.
G-III Apparel Group Ltd., which licenses and sells products from brands including Calvin Klein and Tommy Hilfiger available at a variety of large department stores, sank more than 11 percent to weigh on the Russell 2000 Index. The shares fell to their lowest since December.
Energy companies dropped 1.9 percent, the most among the S&P 500's 10 main industries, with crude oil sliding after data showed stockpiles expanded. Apache Corp. lost 7.3 percent after Anadarko Petroleum Corp. said it withdrew an offer to buy the crude producer after it rejected an all-stock bid and refused to engage in substantive talks. Anadarko declined 3.8 percent.
Boston Scientific Corp. sank 4.2 percent, among the worst performers in the health-care group today. Its Watchman device, which is used to close off a portion of the heart where deadly blood clots can form, failed to obtain broad coverage from the U.S. Medicare program.
Horizon Pharma Plc plunged 20 percent after Express Scripts Holding Co., the largest U.S. manager of prescription drug benefits, said it removed mail-order pharmacy Linden Care LLC from its network after concluding it mostly dispensed medications from Horizon Pharma and didn't fulfill its contractual agreements. The company denied that Linden or any other pharmacy is anything less than independent.
The Chicago Board Options Exchange Volatility Index rose 5 percent Wednesday to 16.06. The measure of market turbulence known as the VIX is hovering near its lowest since August after its steepest monthly drop ever in October.
Molson Coors
Molson Coors Brewing advanced to an all-time high. The brewer plans to buy the Miller brand globally and purchase the other 58 percent of the MillerCoors U.S. joint venture, in a $12 billion side deal devised to help the Anheuser-Busch InBev NV merger with SABMiller Plc clear antitrust hurdles. Molson Coors shares are up more than 33 percent since the mega-deal speculation was revealed almost two months ago.
Technology shares in the benchmark index were little changed, despite Xerox Corp. gaining 6.6 percent, the most in almost four years and strongest in the S&P 500 Wednesday. Activision Blizzard Inc. climbed 2.1 percent after the video-game maker said its "Call of Duty: Black Ops III" had more than $550 million in opening weekend sales worldwide.
An S&P index of homebuilders added to its best advance in more than nine months yesterday, which was spurred by results from D.R. Horton Inc. as its quarterly profit climbed 44 percent and exceeded analysts' forecasts. The builder gained 2.8 percent after rising 8.3 percent Tuesday, on track for its best two-day surge since 2010. Toll Brothers Inc. and KB Home increased more than 1.2 percent.
ADT, GE
ADT Corp. gained 4.4 percent, trimming an earlier 9.2 percent jump. The provider of security services for residences and small businesses predicted growth in its subscriber base for the coming year, and quarterly profit excluding some items topped analysts' views.
General Electric Co. rose for a second day to pace a climb among industrials, with the shares rising 1.8 percent to the highest in more than seven years. The stock added 1.2 percent yesterday after GE and Alstom SA won contracts worth $5.6 billion to build locomotives for India's congested state-owned railway.
Amazon.com Inc. bucked the day's downdraft among large retailers, rising 2.1 percent to a fresh record. The shares are up for the fifth time in six sessions while gaining 7.7 percent during the stretch.
Before it's here, it's on the Bloomberg Terminal.
LEARN MORE