U.K. Stock Investors Are in Limbo Waiting for Rates Clarity
by
Equity volatility declines to lowest level since May

Rebound in the FTSE 100 trails that of euro-area equities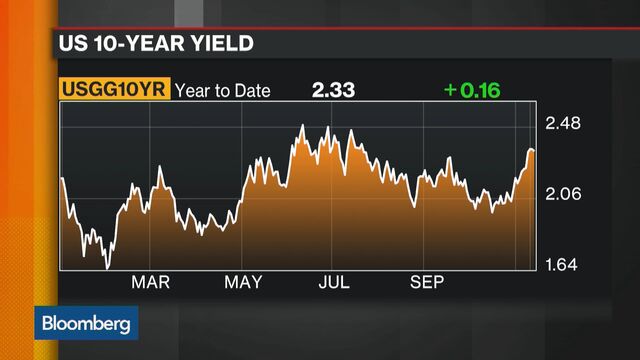 After a summer of swings, British stocks are taking a breather as uncertainty over the timing of U.S. and U.K. interest-rate increases has left investors wary of big bets.
The FTSE 100 Index has been trading in a tight range for the past month, with a measure of volatility falling to its lowest level since May. Even as Friday's U.S. jobs report increased expectations for a Federal Reserve rate increase this year, questions arose about when the Bank of England will make its move.

"The main driver at the moment is interest rates," said Derek Mitchell, who helps oversee about 75 billion pounds ($113 billion) as a fund manager at Royal London Asset Management in London. "We in the investment community are more likely to sit on our hands and do nothing until we can see our way through. At the moment, it's not that obvious."
After concern over China's slowdown wiped out as much as $525 billion from U.K. equities, the FTSE 100 began a rebound that stalled in October. The gauge failed to break out of a range between about 6,250 and 6,488 for the past month. It rose 0.7 percent at 9:04 a.m. in London, with BOE governor Mark Carney among those speaking at the Open Forum conference on the reform of financial markets today.
Carney signaled last week the U.K. needs record-low interest rates for longer as a slowdown in emerging-market economies could damage the nation's recovery. That diverges with the view of the Organisation for Economic Co-operation and Development, which said on Monday the central bank should increase them early next year. Forecasts and interest-rate derivatives showed investors are betting a move will come in November 2016.
Annual Drop
The FTSE 100 has advanced 6.2 percent since a September low, trailing the rebound in euro-area equities. The U.K. index is heading for its biggest annual decline since 2011, dragged lower by commodity and energy producers that account for almost a fifth of it and by a 13 percent weighting in banks. Adding to the uncertainties, Brits will vote on European Union membership in a referendum due by the end of 2017.
"The concentration that you've got in the U.K. index is the one you don't want to have at the moment," said Mark Boucher, who helps oversee 15 billion pounds as a portfolio manager at Smith & Williamson Investment Management. "It needs some of those resource stocks and the banks to feel like they're going to recover. To me, it doesn't feel like we're quite there yet."
Other parts of Britain's equity market are faring better. The FTSE 250 Index of mid-cap stocks has gained 5.9 percent this year. With U.K. growth forecast to outpace that of the euro area, companies more dependent on the domestic economy are poised to do well.
"People are very happy with U.K. fundamentals," said Alan Higgins, chief investment officer at Coutts & Co. in London. "If you think of the FTSE 250 as a separate market, it's a strong performer. It's just that the composition of the FTSE 100 is out of favor."

For now, expectations for moves in U.K. stocks have fallen. The FTSE 100 Volatility Index has almost halved since a high in August and is 28 percent lower than the VStoxx Index, its euro-area counterpart.
"We're in the waiting room for interest rates to start to rise," said Clive Beagles, a senior fund manager at JO Hambro Capital Management in London. His firm manages 18 billion pounds. "That I think is why markets feel a bit directionless."
Before it's here, it's on the Bloomberg Terminal.
LEARN MORE