Sure, IBM Has Gained 3,400,000% But Is It a Buy Now?
by
Company listed 100 years ago on the New York Stock Exchange

`A number of trends have passed them by,' analyst says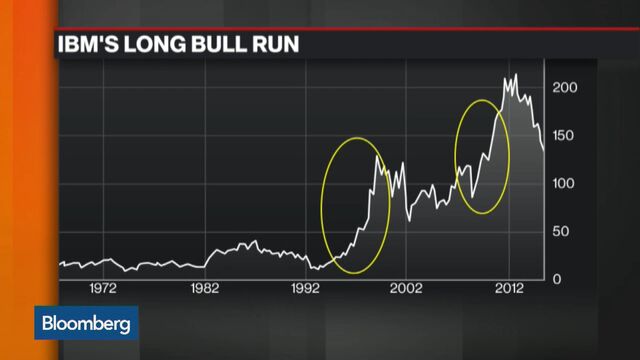 On Nov. 11, 1915, exactly three years before the end of World War I, IBM listed for the first time on the New York Stock Exchange -- its name then Computing-Tabulating-Recording Co. With the stock down 16 percent this year, some investors are weighing whether to hang on as IBM starts a second century.
IBM isn't making a big deal of Wednesday's 100th anniversary, which comes at an inauspicious time. Its stock has been the second biggest drag on the Dow Jones Industrial Average this year. Since International Business Machines Corp. was added to the index on June 29, 1979, it's grown just 1,700 percent compared with more than 6,000 percent for the entire Dow.
"A number of trends have passed them by," said Ivan Feinseth, chief investment officer at Tigress Financial Partners. "There goes social, mobile, big data analytics, cloud -- and IBM is trying to play catch-up in all of those."
The 104-year-old company, which has survived through the Great Depression, the bursting of the dot-com bubble and the Great Recession, along with a number of technological shifts, has been lagging behind as enterprises buy fewer mainframe computers and more data and computing services are hosted offsite. As a latecomer to peddling this cloud technology, IBM has posted 14 consecutive quarters of declining revenue.
IBM also spent too much cash on stock buybacks earlier in the decade -- money that the company should have used to either acquire fast-growing businesses or invest in developing products in-house, said Vahan Janjigian, chief investment officer at Greenwich Wealth Management, which holds IBM stock.
Still, for really long-term investors, consider this: If you had bought a share of IBM when it first listed on the NYSE at $47, you would now own 11,879 shares with a value of $1.6 million, according to the company. That's a 3.4 million percent gain, not counting dividends -- or an 11 percent annual rate of return. (IBM officially listed under its current name on the NYSE in 1924.)
IBM has its admirers, none more visible than Warren Buffett, the biggest shareholder through Berkshire Hathaway Inc. He has only been adding to his hoard of IBM shares, even after Berkshire declared $2 billion in unrealized losses on the stake in the third quarter.
The company has successfully transformed its business multiple times in the past, two just in the last 30 years, which accounts for part of the faith that investors including Janjigian and Buffett have in IBM.
Some analysts and investors say there's some cause for optimism, as long as IBM can keep gaining ground in the transition already under way:
Prove that it can succeed in cloud technology, which for IBM means selling software as well as helping clients set up a cloud for computing needs. In 2014, cloud revenue amounted to $7 billion, less than 10 percent of total sales. That needs to reach more than 15 percent, according to Dan Morgan, senior portfolio manager at Synovus Securities Inc., which holds IBM stock. The company is probably a distant fourth or fifth in cloud computing behind giants like Amazon.com Inc. and Microsoft Corp., he said.
Reach its $40 billion goal for new businesses -- or what IBM calls strategic imperatives -- and have them account for 40 percent of total revenue by 2018. The company has been showing promise in some of its newer initiatives, especially in mobile, security and analytics, Louis Miscioscia, an analyst with CLSA, said. The growth is badly needed to offset declines in other IBM business, he said.
Sell more software so that it becomes a larger share of overall revenue. That's because software is more profitable than IBM's other businesses such as services and hardware. No one expects IBM at its size to be growing rapidly in revenue, which is why higher profitability is important, Janjigian said.
Stabilize and eventually increase sales. Wall Street would be happy with 2 percent to 3 percent organic growth in revenue, Miscioscia said.


To be sure, investors can rely on getting cash from IBM; it has declared consecutive quarterly dividends since 1916 -- a year after it joined the NYSE. That helps prevent massive selloffs of the stock and gives the company more time to figure out its transition.
"They've always been able to reboot themselves and grow again, so you give them more benefit of the doubt," said Morgan.
(Corrects size of its goal for new businesses in second bullet point.)
Before it's here, it's on the Bloomberg Terminal.
LEARN MORE