Osborne Says U.K.'s EU Membership Key to London Financial Future
By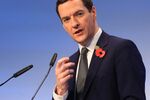 U.K. Chancellor of the Exchequer George Osborne suggested London's survival as a leading financial hub depends on Britain staying in the European Union.
"It's massively in the interests not just of Britain but of the whole European Union that one of the world's greatest financial centers is located in the EU," Osborne told a conference in London on Wednesday.
Osborne's comments come a day after Prime Minister David Cameron set out his reform demands to the EU ahead of a referendum, promised by end-2017, on Britain's membership of the bloc. While the EU Commission said some of the points raised were "highly problematic," Cameron said he is "confident" an agreement can be reached.