Orange Juice Prices Surge for Second Straight Day
by
Futures rise by exchange limit for second day on pest concern

Consumers will begin to see higher prices, Rabobank says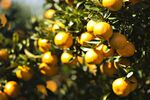 Orange-juice futures extended gains to the highest in more than 16 months on deepening concern that pest damage is mounting in Florida's groves, triggering speculation that shoppers will start to see higher retail prices soon.
Citrus greening, a bacteria spread by the Asian psyllid insect, continues to wreak havoc across groves in Florida, the biggest U.S. orange producer. The state will collect 74 million boxes of the fruit in the season that started Oct. 1, data from the Department of Agriculture showed Tuesday. That's down from the estimate last month for 80 million boxes and 24 percent lower than last year's output.
The price rally of more than 40 percent in six weeks will filter through to the supermarket soon, said Ross Colbert, global beverage strategist at Rabobank International in New York.
"This kind of price sensitivity typically takes 30 to 60 days before consumers start to feel it at the shelf," he said Wednesday in a telephone interview.

Orange juice for January delivery rose 3.1 percent to close at $1.5365 a pound at 1:37 p.m. on ICE Futures U.S. in New York. Earlier, the price jumped by the exchange limit of 10 cents to $1.5905, the highest for a most-active contract since June 24, 2014. For the first time since January 2012, the commodity rose by the maximum in consecutive sessions.
The gains in recent weeks probably are boosting costs for companies including Coca-Cola Co., the maker of Minute Maid and Simply Orange brands, and PepsiCo Inc., which sells Tropicana. While U.S. orange-juice consumption has fallen in the past decade amid concerns about high-calorie count and the proliferation of optional drinks, the beverage still has the largest market share in the juice category, according to Euromonitor International.
According to the most "pessimistic" scenario in an October study by the Florida Department of Citrus, the state's production could drop to 27 million boxes by 2026. A box weights 90 pounds (41 kilograms).
Before it's here, it's on the Bloomberg Terminal.
LEARN MORE