Nigeria's New Cabinet Triggers Another Wait for Policy Direction
by
Deadline to submit budget will most likely be missed

Finding funds for infrastructure spending poses challenge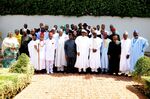 Nigerian President Muhammadu Buhari has ended a more than five-month wait by inaugurating his cabinet. But investors hoping for clarity on plans to rescue the economy from the oil-price plunge may have to remain patient for a little while longer.
Buhari appointed former investment banker Kemi Adeosun as finance minister, among cabinet members who were sworn in Wednesday at a ceremony in the capital, Abuja. The president, who took office in May, has said he wanted to take his time vetting the candidates for their suitability to help root out corruption. Critics say the lag fueled uncertainty in an economy reeling from an almost 60 percent drop in oil prices since last year.
"The most immediate task facing the incoming team will be outlining the much-awaited government fiscal plans," said Manji Cheto, a London-based vice president at Teneo Intelligence. "The 2016 budget will give early indications of the Buhari administration's policy priorities."
By law, the government has until the end of December to draft next year's budget and present it to the House of Representatives and Senate, a deadline that will probably be missed, said Cheto. This year's budget was submitted to parliament in December 2014 and wasn't signed into law until May.
'Behind Schedule'
"They are already behind schedule so the question of whether they'll be able to meet the deadline is out of it," Clement Nwankwo, executive director of the Policy & Legal Advocacy Centre, said by phone from Abuja, the capital. "It looks unlikely that the budget will be considered before the Christmas break."
With economic growth slowing to 2.4 percent in the second quarter, Buhari now faces the even tougher task of coming up with policies to drive growth in Africa's largest economy and biggest oil producer, John Ashbourne, an economist at London-based Capital Economics, said in an e-mail on Wednesday.
Nigeria's third-quarter growth figures set to be released later this month will probably show a further slowdown, he said.

"The appointment of a new cabinet is an important step, but Nigeria still faces serious economic challenges," Ashbourne said. "The new government will have to hit the ground running."
Permanent secretaries who were running government ministries for months probably put together some budget proposals, said Cheto. Buhari replaced some secretaries, the top public servants, with new appointees on Tuesday.
Speaking after swearing in his cabinet Wednesday, Buhari said his priorities were diversifying the economy to lessen its reliance on oil, developing agriculture to meet the ultimate goal of self-sufficiency in rice and wheat production, exploiting the country's solid minerals and creating millions of jobs for Nigeria's huge numbers of unemployed young people.
Funding Challenges
The Central Bank of Nigeria's currency restrictions have also brought unease to businesses and investors, choking activity and the economy is growing at its slowest pace this decade. The government's economic policies aren't very clear and it needs to answer questions raised by the central bank's actions, Nwankwo said.
"The overall speed with which decisions are being taken is a concern," said Folarin Gbadebo-Smith, the managing director of the Lagos-based Centre for Public Policy Alternatives. "Are we going to wait another six months for these people to evolve their plans before we start running government? Only a few of these people have the experience to hit the ground running."
Buhari's administration has said it intends to allocate spending on improving infrastructure to spur economic growth and avoid a recession. Vice President Yemi Osinbajo has proposed increasing expenditure in 2016 to as much as 7 trillion naira ($35 billion), up from about 4.5 trillion naira this year, according to a person familiar with the plans who asked not to be identified because the matter is private.
"Where will the money come from?" said Bismarck Rewane, chief executive officer of the Lagos-based Financial Derivatives Co. Ltd. "The challenge for the new finance minister is how to raise" funding via domestic or international debt markets "or any other means."
Before it's here, it's on the Bloomberg Terminal.
LEARN MORE