Nigeria's Buhari Picks Ex-Banker Adeosun as Finance Minister
by
Emmanuel Kachikwu selected as state minister for oil

Former Lagos state governor Fashola given power ministry
Nigerian President Muhammadu Buhari appointed former investment banker Kemi Adeosun as finance minister as he swore in his cabinet on Wednesday, more than seven months after he won the election that ushered in the first democratic handover of power in Africa's biggest economy.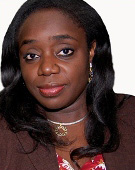 Buhari, 72, selected Adeosun, who was most recently finance commissioner of Ogun state in southwestern Nigeria, to succeed Ngozi Okonjo-Iweala, a former World Bank managing director. Adeosun, 48, takes the job in an oil-dependent country that is suffering from a fall in crude prices in the past year, an economy growing at its slowest pace this decade, and increasing unease among business-people and investors that currency restrictions imposed by the central bank are choking activity.
Adeosun told lawmakers last month that a currency devaluation on its own won't solve the nation's economic problems, and that she supports the bank's foreign-exchange restrictions.
"For many investors in Nigeria, the key consideration is what is done in terms of FX policy," Razia Khan, chief economist for Africa at Standard Chartered Plc in London, said in e-mailed comments. "Adeosun's seeming endorsement of current FX policy choices during her senate testimony will disappoint investors who had been hoping for more rapid liberalization of Nigeria's FX market."
'Strong Position'
Bismarck Rewane, head of Financial Derivatives Co., a consultancy in Lagos, described Adeosun's appointment as an "excellent choice," saying she had turned around the financial position of Ogun state when she served as finance commissioner.
"Ogun state was in shambles, she put the state finances in strong position," he said by phone. "She did a remarkable thing taking the state revenue from a negative position to a positive level."
Before her four-year stint in Ogun's government, U.K.-born Adeosun was an investment banker with Lagos-based Chapel Hill Denham Ltd. and an accountant at PricewaterhouseCoopers LLP.
In another key position, Emmanuel Kachikwu, the head of the state-owned oil company, was made junior minister for petroleum. Buhari's office said last month that the president would oversee the work of the oil ministry without formally naming a minister.
Platitudes, Rhetoric
Buhari has been criticized for creating uncertainty by delaying the appointment of a cabinet in Africa's largest oil producer. The president has said he's taking his time to put the right people in place to help in the fight against corruption and inequality.
"It wasn't really worth the wait," said Olusegun Sotola, a Lagos-based research fellow at the Initiative for Public Policy Analysis. "By now we should have been having real policy discussions. We can't expect much for them over the next three months, they're going to be briefed by their permanent secretaries. We're probably just going to be hearing platitudes and rhetoric from them until February."
Buhari's government has said it intends to spend money on infrastructure improvements in order to avoid recession. Next year's budget may range from 6 trillion to 7 trillion naira ($30-35 billion), up from the 4.49 trillion naira spending plan for 2015, Vice President Yemi Osinbajo proposed at a ministerial meeting last week, according to a person in attendance, who asked not to be identified because the matter is private.
Adeosun will face a challenge bridging the budget revenue shortfall either by raising financing from "domestic or international debt markets or any other means," said Rewane.
Part of the budgetary process will be banker Udoma Udo Udoma, who takes charge of a newly-created ministry of budget and planning. Udoma, from the southern state of Akwa Ibom, was appointed chairman of Union Bank of Nigeria Plc in 2013.

Speaking after swearing in his cabinet, Buhari said his priorities were diversifying the economy to lessen its reliance on oil, developing agriculture to meet the ultimate goal of self-sufficiency in rice and wheat production, exploiting the country's solid minerals and creating millions of jobs for Nigeria's huge numbers of unemployed young people.
Buhari appointed Babatunde Fashola, the former governor of Lagos state, as power, works and housing minister; and Rotimi Amaechi, the former governor of oil-producing Rivers state who defected from then-President Goodluck Jonathan's party to join the group that won the March election under Buhari, as minister of transport.
Okechukwu Enelamah, the founder of Lagos-based private equity company African Capital Alliance, was also picked as trade and investment minister. He will have to reassure foreign investors after the country's largest mobile-phone operator, Johannesburg-based MTN Group Ltd., was hit with a $5.2 billion regulatory fine this month for not disconnecting unregistered users.
Adebayo Shittu, the newly appointed communications minister responsible for mobile-phone operators, told Lagos-based Channels TV after the swearing in ceremony, that monies owed to the nation will be paid, without being specific. MTN is contesting the fine.
Before it's here, it's on the Bloomberg Terminal.
LEARN MORE