Modi Sees First Signs of Dissent After India State Election Loss
by
Senior BJP leaders call for review into electoral defeat

Move risks overshadowing spurt of economic reforms Tuesday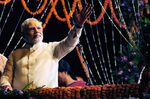 Brewing dissent within Indian Prime Minister Narendra Modi's party spilled into the open for the first time since he took power after its rout in a crucial state election.
The Bharatiya Janata Party lost the vote in Bihar because it has been "emasculated" over the past year and is being forced to "kowtow to a handful," party members including former President Lal Krishna Advani wrote Tuesday in a statement published by the Press Trust of India. Without naming Modi, it called for a review of the electoral defeat.
While Modi's grip on the party remains firm, the internal sparring risks giving the opposition more ammunition as it seeks to build on momentum from the Bihar election victory. That could mean further delays to economic reforms including a goods-and-services tax that has been stuck in the opposition-controlled upper house of parliament.
The letter overshadowed moves by the government earlier Tuesday to ease rules for foreign direct investment in India, with the nation's main newspapers carrying both reports side by side on their Wednesday front pages. Modi heads to the U.K. on Thursday, where media reports say he'll sign about 10 billion pounds ($15 billion) of deals .
"Talk about timing!!!!" rival politician Omar Abdullah wrote on Twitter soon after the letter was made public. "No one is discussing FDI reforms now!"
'Adverse Verdict'
The BJP acknowledged the letter a few hours later, responding with a joint statement by members Rajnath Singh, Venkaiah Naidu and Nitin Gadkari, all ministers in Modi's cabinet. It listed the BJP's electoral victories and defeats under Modi -- including its landslide parliamentary win in 2014 that made Modi prime minister -- and pledged to review the results.
"The party will discuss this matter on various other forums including with senior leaders and attempt to overcome the shortcomings that led to the adverse verdict in Bihar," they wrote.
The BJP won just 53 of the 243 seats up for grabs in Bihar, one of India's poorest and most populous states. The result was a personal setback for Modi who had campaigned aggressively as the face of the party. It followed another wounding loss in February in local elections in Delhi, making it harder for Modi to gain control of the upper house of parliament where the opposition has stalled key economic bills.
Yet, the BJP would be reliant on him once again to win the 2019 parliamentary polls, said Business Standard columnist Archis Mohan.
"None should delude themselves that this is a challenge to Modi's position," Mohan wrote in an opinion piece on Wednesday. "The PM remains the party's sole match-winner. If anybody can win 2019 for the BJP, it is Modi."
Before it's here, it's on the Bloomberg Terminal.
LEARN MORE