Lufthansa, Singapore Air Commit to Revenue-Sharing Alliance
by
Deal covers flights from Asian city to German, Swiss cities

Carriers will also coordinate schedules, add 20 code-shares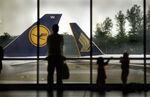 Deutsche Lufthansa AG agreed to share revenue with Singapore Airlines Ltd. on routes from the city state to Germany and Switzerland as part of an expanded partnership that will help the European carrier compete with fast-expanding competitors from the Persian Gulf.
The joint venture will see proceeds divided up on flights linking Singapore with Frankfurt and Zurich, which are operated by both companies, as well as the Asian airline's route to Munich and its new Dusseldorf service due in July. The deal includes coordination of schedules in markets in Europe, Southeast Asia and Australia and adds 20 new code-shares, Lufthansa said in a statement.
Such alliances are the closest airlines from different parts of the world can get to combining schedules given limits on investment, and have helped Lufthansa compete with Gulf carriers that are funneling an increasing share of long-haul traffic via their desert hubs. It already has joint ventures with Air Canada and United Continental Holdings Inc. on trans-Atlantic flights and ANA Holdings Inc. in the Germany-Japan market, and is seeking a deal with Air China Ltd.
"It's our goal to have a joint-venture partner in each of the top five inter-continental markets," Lufthansa Chief Executive Officer Carsten Spohr said at a business-travel convention in Frankfurt. "We're at four now, with United, Air Canada, ANA and Singapore. Air China will follow before the end of the year."
The agreement announced Wednesday includes Singapore Air's SilkAir unit and Lufthansa's Austrian and Swiss arms.
Before it's here, it's on the Bloomberg Terminal.
LEARN MORE