Photographer: Wolfgang von Brauchitsch/Bloomberg
German Probe Found Indications of Elevated Diesel Pollution
by and
Motor authority is in talks with affected companies on data

Probe covers more than 50 cars from all major automakers
Germany has found signs of elevated pollutants in diesel cars in initial results of tests performed in the wake of the Volkswagen AG cheating scandal.
The Federal Motor Transport Authority, or KBA, is in talks with carmakers about "partly elevated levels of nitrogen oxides" found in raw data on some of the 50 cars being examined, the regulator said in a statement Wednesday. The authority didn't release the make or model names of the cars that had elevated pollution levels. The testing included the VW nameplate as well as the carmaker's Porsche and Audi units. BMW, Mercedes and General Motors Co.'s Opel were also among the two dozen brands tested.
German authorities are about two-thirds finished with the review they started in late September, when the Volkswagen scandal prompted a deeper look at real-world diesel emissions. Volkswagen admitted to rigging the engines of about 11 million cars with software that could cheat regulations by turning on full pollution controls only in testing labs, not on the road. The scandal has since spread to include carbon-dioxide emissions in another 800,000 vehicles, including one type of gasoline engine.
Street Tests
Other major automakers, including BMW AG and Daimler AG, have said they didn't manipulate emissions tests. BMW isn't among the companies in talks with the KBA over this probe and therefore doesn't expect any negative findings, a company spokesman said by phone. An Opel spokesman said the company is constantly in contact with the KBA but declined to comment on this specific probe.
"We welcome these tests," Mercedes parent Daimler said in an e-mailed statement. "We've got nothing to hide."
Vehicles ranging from the tiny Smart ForTwo to the VW Crafter van were chosen for testing based on new-car registration data as well as "verified indications" from third parties. The vehicles were evaluated on test beds as well as on the streets.
Watch Next: Fitch Downgrades VW Credit Rating Over Scandal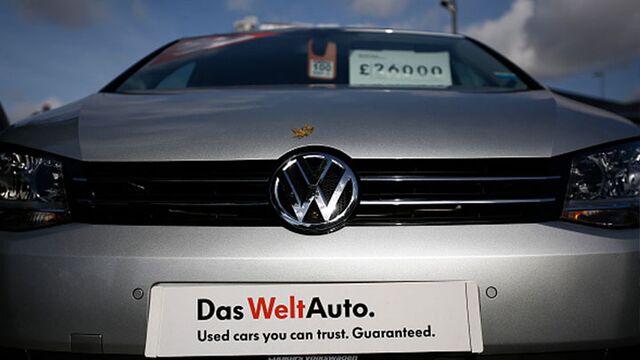 After talks with carmakers, KBA plans to evaluate the data further. Only then will the agency have sufficient results for any legal action, it said. The KBA didn't provide a time frame and declined to say which models had shown signs of elevated NOx pollution.
Before it's here, it's on the Bloomberg Terminal.
LEARN MORE