Fosun Billionaires Lift Stakes After Founding Partner Leaves
by
Guo's holding in Fosun's holding company rose to 64.5%

Co-founders Liang Xinjun and Wang Qunbin also added to stakes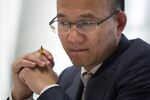 Chinese billionaire Guo Guangchang increased his stake in Fosun International Ltd. after buying shares from one of his founding partners, Fan Wei.
Guo's ownership in Fosun International Holdings Ltd., the holding company of the Hong Kong-listed firm, changed for the first time in more than a decade after Fan sold his entire 10 percent interest to Guo and the other two co-founders, Liang Xinjun and Wang Qunbin. Guo's stake in the holding company rose to 64.5 percent from 58 percent, while his stake in the listed company increased to 46 percent from 41.5 percent between July 27 and Sept. 4, according to filings with the Hong Kong stock exchange.
Jessica Wei, the group's communication director, said in an e-mail that due to health reasons, Fan sold his interests in the holding company on a "pro rata basis." Wei declined to disclose the price of the transaction.
Fosun International, the Hong Kong-listed investment arm of the conglomerate Fosun Group, owns holiday group Club Mediterranee SA, and has announced 10 takeovers worth a combined $6.4 billion in the past year through July, data compiled by Bloomberg show.
The shares of Fosun International fell 0.4 percent to HK$14.86 at the midday break in Hong Kong, while the benchmark Hang Seng Index rose 1 percent. The stock is up 46 percent this year, while the index is down 4.4 percent.
Fan, 46, was one of the three friends of Guo, 48, who together founded Fosun Group in the 1990s. Fan was in charge of the group's property business before he was "redesignated" from the position of executive director to non-executive director at Fosun International in 2013 for health reasons. Fan resigned as non-executive director of Fosun International, according to a filing with the Hong Kong stock exchange dated July 10, 2015.
With about $6,000 in initial capital, the group has developed into a giant investment conglomerate and has made all the four co-founders billionaires. According to the Bloomberg Billionaires Index, Guo has a net worth of $6.4 billion. Fosun's Chief Executive Officer Liang has a fortune of $2.2 billion. Fan and co-founder Wang each has a net worth of over $1 billion.
Before it's here, it's on the Bloomberg Terminal.
LEARN MORE