EU Leaders Court Turkey in Bid to Stem Flow of Refugees
by and
Turkey's Erdogan drives hard bargain with EU over migrants

Money, visa waiver, renewed entry talks on offer from EU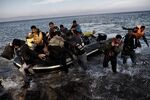 European Union governments will solicit Turkey's help in stemming the flow of refugees by offering financial aid, visa waivers for Turkish travelers and the relaunch of Turkey's membership bid.
EU leaders will debate the incentives package for Turkey at a summit in Valletta, Malta, on Thursday, before the bloc's top officials meet Turkish President Recep Tayyip Erdogan at the Group of 20 summit starting Sunday.
Chancellor Werner Faymann of Austria, one of the refugees' main destinations, said the EU has to move faster to seal an agreement to step up aid for Turkey as the price for Erdogan's cooperation in halting the refugee tide.
"When are we going to pick up the pace?" Faymann told reporters Wednesday in Valletta.
EU courtship of Turkey came as the bloc's internal dissension over refugees intensified with Sweden, another magnet for asylum seekers, announcing temporary border controls as of midday Thursday.
EU-Turkey ties have frayed since Turkey started entry talks in 2005, as Erdogan's governments strayed from EU civil rights standards and the bloc's economic woes dimmed its interest in further expansion.
Flared Up
Those strains flared up on Tuesday, when the European Commission criticized the Turkish government for intimidating the media and cracking down on domestic dissent. Turkey responded that the EU's reproaches were unjust.
The EU at first weighed 1 billion euros ($1.1 billion) to help Turkey lodge Syrian war refugees and prevent them from going on to Europe, but Turkey has driven up the price. Now a figure as high as 3 billion euros is under discussion.
Britain, a fan of Turkey's entry bid until U.K. Prime Minister David Cameron's government turned against EU enlargement, plans to make a separate contribution of 275 million pounds ($418 million) over two years, a British official told reporters in Valletta.
Turkey is also pushing for the restart of its stalled entry negotiations and for European governments to waive visa requirements on Turkish visitors, a step that would be popular with young people especially.
"Turkey isn't just looking for just a financial commitment from Europe, but also for a political commitment," Maltese Prime Minister Joseph Muscat said in an interview.
Before it's here, it's on the Bloomberg Terminal.
LEARN MORE