Dyson Loses Appeal Court Case Over EU Energy-Labeling Rules
by
British vacuummaker had protested over `misleading' labels

Dyson argued that labels favored older machines with bags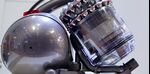 Dyson Ltd., the British engineering company famous for its iconic vacuum cleaners, lost a court appeal to overturn European Union rules it said created "misleading" energy labeling of products.
The EU General Court in Luxembourg on Wednesday said it "dismisses Dyson's action in its entirety, thereby upholding the rules put in place by the commission in the contested regulation."
Dyson argued the EU's method of evaluating energy use will favor old-fashioned models that use bags. The EU had developed labels to help people choose household appliances. From 2013, vacuum cleaners also had to meet certain energy performance criteria and the test to evaluate this is misleading, Dyson argued, because it requires this be done in a laboratory with an empty and dust-free vacuum.
The EU court decision will back "unrepresentative tests devised by the commission with a small group of European manufacturers which in our view disregards the interests of consumers," Dyson said in an e-mailed statement. "Dyson was the only manufacturer to support a cap on motor wattage, which would be the most effective way of reducing energy consumption and promoting greater efficiency."
Dyson tried to tie the case to investigations of cheating on emissions tests by Volkswagen AG, which is facing claims that it used computer technology to cut pollution by its vehicles during testing.
"The judgment is all the more surprising in view of the revelations about car testing in the VW scandal where the tests do not reflect real life usage," the company said. "We don't believe" the EU court "is acting in the interests of consumers and will continue to fight for testing and labeling, which is."
Dyson said it will reassess the situation before deciding to file an appeal.
The case is: T-544/13, Dyson v Commission.
Before it's here, it's on the Bloomberg Terminal.
LEARN MORE