Draghi Says European Markets Need Governance to Be Truly Free
by
Speaks at Bank of England's Open Forum on markets, regulation

ECB President says EU Single Market needs credible institution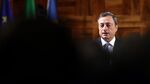 Cross-border markets in financial services and goods need "credible institutions" to be able to really operate freely, European Central Bank President Mario Draghi said.
"I think it is well understood by all in Europe that a genuine single market has to be buttressed by appropriate and credible institutions," Draghi said at the Bank of England's Open Forum event in London on Wednesday. "The more we want borders to be open, the more we recognize also the potential of integrated markets to produce financial contagion, spillovers and in some cases financial instability, the more we need to have global institutions to regulate those markets."
Without explicitly addressing the debate about whether the U.K. should remain in the European Union, Draghi signaled that countries can't fully enjoy open markets without agreeing to some form of shared political control. That imperative stands behind the EU's efforts to create a banking union and deepen the single market in goods and services.
The ECB president also praised recent cooperation between the ECB and the BOE to promote and revive the use of asset-backed securities, as an example of a cross-border regulatory attempt beneficial to both parties.
"This experience with securitization, then, was an example of what appropriate governance means: having regulations that are sufficiently sound to preserve the integrity of the market, but not so taxing as to suffocate it," Draghi said. "That is why I said that free markets stipulate not just the right to take part, but also the means to protect that freedom."
Before it's here, it's on the Bloomberg Terminal.
LEARN MORE