Croatian Political Deadlock Would Risk Recovery, Vujcic Says
by and
Central bank chief sees quick overhaul plan needed after vote

Euro adoption out of reach until next decade, Vujcic says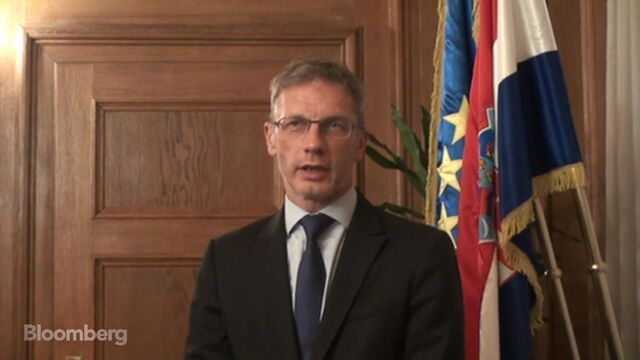 Croatia can't afford political wrangling after inconclusive general elections because protracted instability would threaten a nascent recovery from six years of recession, the head of its central bank said.
The next government needs to quickly draw up a list of measures to address growing public debt and a fiscal deficit the government sees narrowing to 4.5 percent of economic output this year, Croatian National Bank Governor Boris Vujcic said in an interview Tuesday. Any delay risks discouraging investors who've already reacted to the ballot by pushing up Croatian bond yields and selling the kuna, he said.
"One can hope that the government will be formed as soon as possible, because too long a period of uncertainty is not helpful," Vujcic said in his office in Zagreb. If investors perceive that any "prolonged period of negotiations might lead to outcomes that don't lead to reforms that are necessary, in a direction of fiscal consolidation that's necessary, or that they might lead to monetary-policy or financial-sector instabilities, then they might be hurtful." 
The nation is headed into potentially protracted coalition talks, with the opposition Croatian Democratic Union and Prime Minister Zoran Milanovic's Social Democrats both claiming the right to lead negotiations after a close finish in the Nov. 8 election. The upstart Most party, in third place, has been propelled into kingmaker position, and wants the right to name the next premier and win support for its policy agenda in exchange for its support. A standoff may endanger recovery from a downturn that's wiped 12 percent off the economy and more than doubled public debt since 2008.
'Linear Cuts'
Vujcic, 51, said the vote for Most, a protest party whose name means "bridge" in Croatian, represented a desire to accelerate an economic overhaul in the European Union's newest member. The group campaigned on tax cuts and reductions in bureaucracy. Vujcic recommended measures avoiding across-the-board cuts to spending or revenue that could affect growth that the central bank sees at 1.2 percent in 2015.
"When you look at the outcome of this election, there's more will for reform among voters," he said. "It's not only cuts per se that Croatia really needs, but a set of structural reforms that don't necessarily cost in terms of fiscal expenditure nor do they reduce fiscal income."
Debt Trajectory
Croatia's debt will rise to 92 percent of gross domestic product next year from 39 percent in 2008, according to the European Commission. Vujcic attributed the surge to the recession, swollen fiscal deficits during the global economic crisis and a reclassification of state-company borrowing after EU entry in 2013. The next government should aim for a primary budget surplus of 1 percent of GDP each year to arrest the climb of the public debt-to-GDP ratio, Vujcic said.
"This is a must," he said. "This is why the new government has to be very careful in the beginning not to hurt the green shoots of growth, which are very vulnerable to any policy misconduct."
Any prolonged political standoff may also pose risks to borrowing costs after the yield on the country's euro-denominated bond maturing in 2025 jumped to a four-month high on Monday. With investors increasingly betting on U.S. monetary authorities to tighten policy, a window of opportunity for "very accessible or low-interest-rate financing may be slowly closing in the short to medium run," Vujcic said.
Favorable Conditions
"The speed of forming a government and announcing a clear set of policies is important because we don't know how long these favorable conditions will last," he said.
The central bank will also maintain its policy of using a managed currency peg as its main tool for monetary stability, Vujcic said. The $57 billion economy is closely linked with the euro area, with many Croatian consumers and companies borrowing in the common currency. A currency switch, however, will only be possible after the country demonstrates it can put public debt on a sustainable downward path, he said.
"This is not something that will happen by the end of this decade," Vujcic said. "But it may happen in the beginning of the next."
Before it's here, it's on the Bloomberg Terminal.
LEARN MORE