business
Croat Most Party Demand National Unity Government to Fix Economy
By
Most proposes ruling alongside Social Democrats, opposition

Party wants to name premier, achieve 2/3 parliament majority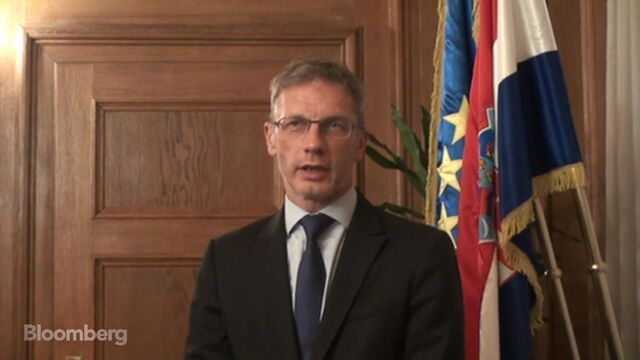 Croatia's Most party, which is trying to play kingmaker after placing third in general elections, proposed a national unity government with the top two parties in a plan that was quickly rejected by the opposition.
Most leader Bozo Petrov called on Prime Minister Zoran Milanovic's ruling Social Democrats and the opposition Croatian Democratic Union, known as HDZ, to join his party in an administration "for at least two years." It would command more than two-thirds of parliament's 151 seats, which is needed to pass measures to overhaul the economy, he said. He also set an ultimatum that his party must name the next prime minister in any government it would join.
"The most important thing is the economy, and we should overcome ideological and worldview differences among us," Petrov told journalists at a conference in Zagreb on Wednesday. "We expect both big parties to accept our offer for national unity."
The election's inconclusive result, in which the Social Democrats and HDZ have both claimed victory and the right to lead the next coalition talks, has threatened to cast the country into a political standoff. Croatia can't afford protracted political wrangling, because a long period of instability would threaten a nascent recovery from six years of recession, the head of its central bank said late Tuesday.
'Years of Animosity'
HDZ, led by former state security chief Tomislav Karamarko, and Milanovic's party have swapped leadership of the Adriatic state of 4.2 million people since it split from the former Yugoslavia in 1991. Before Petrov's proposal, they both rejected ruling together in a grand coalition. While Social Democratic spokeswoman Danica Juricic Spasovic said the party declined comment on Petrov's proposal, Karamarko made clear he was against such an alliance.
"This is not a good idea. This is not a realistic idea," Karamarko told reporters in Zagreb. "How can we sit at the same table with people who have ruined the Croatian economy? Our talks with Most will continue, and if they care about Croatia, they will sit down and talk to the party that has won the elections."
Karamarko's party has blamed Milanovic for being too slow to end a 2008-2014 recession and its handling of hundreds of thousands of Middle Eastern migrants who have crossed its border since August in the European Union's deepening refugee crisis. Milanovic, who led the country into the EU in 2013, defeated HDZ after the party was censured for graft and its former leader and prime minister, Ivo Sanader, was jailed for bribery and abuse of power.
"After so many years of animosity and hard talk, they should be able to sit at the same table for at least two years," Petrov said. "We offer to moderate that unity."
Croatia's currency has suffered since the election. It lost 0.2 percent against the euro by 5:17 p.m. in Zagreb on Wednesday, falling to its weakest level in November. The yield on the country's euro-denominated bond maturing in 2025 fell 28 basis points to 4.218 percent after rising to a four-month high on Monday.
Before it's here, it's on the Bloomberg Terminal.
LEARN MORE