Coca-Cola Says Ackman Remarks on Obesity Are `Irresponsible'
by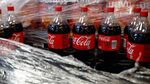 Coca-Cola Co., the world's largest soft-drink maker, said hedge fund manager Bill Ackman went too far in blaming the company for a global increase in obesity and diabetes.
"These comments are irresponsible and do not recognize the current breadth of our business," Kent Landers, a spokesman for the Atlanta-based company, which also sells bottled water, milk and fruit juice, said in an e-mailed statement.
Before it's here, it's on the Bloomberg Terminal.
LEARN MORE