Buying Stocks to Win the Gods' Favor Will Not Save Modi Reforms
by
Sensex rises 0.5% at special Muhurat session on festival day

Modi's election defeat diminishes his power to reform economy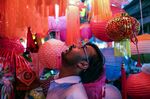 In India, if you pray for shares to rise, they probably do.
Once a year, for the Hindu festival of Diwali, the country's two main equity markets -- BSE Ltd. and National Stock Exchange of India Ltd. -- throw open their doors for a special one-hour session where traders buy shares to win the favor of the goddess of wealth. In 12 of the last 14 years, she has answered their prayers. BSE's benchmark Sensex has climbed an average of 0.7 percent in each Muhurat trading session. That tradition remained intact on Wednesday, with the gauge rising 0.5 percent.
While traders believe good Muhurat trading is a good omen for the new Hindu year, things aren't so upbeat for India's prime minister. Narendra Modi lost elections in the state of Bihar last weekend, making it harder for him to pass laws in the upper house of parliament. Equity investors had cheered the triumph of Modi's Bharatiya Janata Party in the 2014 general election because they bet the incoming prime minister would reform the Indian economy.
"Investors may just have to pray a bit harder this year," Arup Ganguly, the managing partner at London-based KNG Securities LLP, said by e-mail. "They are disappointed with the speed of economic reforms since the BJP government took power a year and a half ago."
Investors and traders made ceremonial purchases of stocks when the markets opened from 5:45 p.m. to 6:45 p.m. today. Typically, in such sessions, they adorn their trading screens with freshly cut flowers, offering sweets and cakes to their computers, as they take part in a ritual that began when BSE became India's first stock market in 1875.
Wednesday's gains were led by companies benefiting from Modi's decision to relax foreign-investment norms for 15 industries. The trading floor, where the prayers were held, was packed with devotees of goddess Lakshmi, BSE's Chief Executive Officer Ashishkumar Chauhan said.
"There were many more people this time as compared to the last session," he said. "People are more hopeful."
Muhurat is deemed the most auspicious time to make an investment, but investors who jumped in the market last Diwali have still lost money. The Sensex dropped 3.9 percent in the last Hindu year as investors waited to see whether Modi's government would introduce the economic reforms it had promised during the 2014 election campaign.
Gains by Indian equities at the Muhurat session are just "fool's gold," according to Richard Harris, the chief executive officer of Port Shelter Investment Management in London. "The market looks fragile," he said before the event.
Many Mumbai-based investors would agree.
"The mood has changed from being very optimistic last year to cautious today," said Pulakit Parekh, a trader at Mehta Vakil & Co., one of the city's brokers. "I would pray for the prosperity to continue."
Modi lost in Bihar to a three-party alliance led by the eastern state's Chief Minister Nitish Kumar. The BJP's opponents won 73 percent of the seats in the state legislature, making Bihar the second state -- after Delhi -- to reject the Hindu nationalist party in elections this year.
The election's outcome means that Modi will struggle to build the political consensus needed to make major policy changes. Sunday's results in Bihar show Modi can't bank on having control of the upper house of the federal legislature, where lawmakers appointed by India's 29 states have blocked measures including a national sales tax.
"Modi and the BJP will have to become more diplomatic and less hard line if they want to keep any sort of reform momentum," according to Gary Greenberg, who helps oversee about $1.8 billion as head of emerging-market equities at Hermes Investment Management Ltd. in London.
Speculation that the U.S. will increase interest rates as soon as next month has also weighed on Indian equities. Higher borrowing costs in the world's biggest economy will probably draw money away from developing markets as the dollar strengthens.
Indian stocks are already more expensive than those of other emerging markets with the Sensex trading at 15.2 times the projected 12-month earnings of its constituent companies, compared with 11.1 times for the MSCI Emerging Markets Index.
The scale of Modi's defeat in Bihar may be the turning point in his premiership, the moment when a political leader loses his ability to act. Though the Sensex rose this evening, the outlook for the Indian stock market has become much harder to divine.
Before it's here, it's on the Bloomberg Terminal.
LEARN MORE