Rebound
Bush Supporters Relieved as Jeb Turns In Steady Debate Performance
"He did what we were all waiting for."
By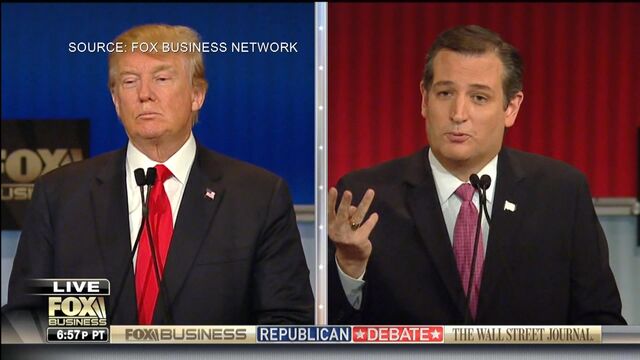 Republican presidential candidate Jeb Bush may have stopped his campaign's bleeding on Tuesday with a debate performance that relieved donors and could ease some of pressure on the onetime front-runner. 
Desperate to reframe his campaign and reverse a months-long slide in the polls, the former Florida governor took his candidacy back to where it started before Donald Trump's populist charge: Arguing against mass deportations and for immigration policies that he says will help the party win its first presidential election since 2004.
"They're doing high-fives in the Clinton campaign right now when they hear this," Bush said of Trump's plan to deport an estimated 11 million undocumented immigrants from the U.S. "We have to win the presidency, and the way you win the presidency is have practical plans."
The debate, held at the historic Milwaukee Theater in Wisconsin, was unlikely to cause a major shift in the polls, which show Trump leading the pack along with retired neurosurgeon Ben Carson. But it was a meaningful night for Bush, a son and brother of former presidents whose campaign was on shaky ground after twice cutting its payroll; a string of verbal gaffes on the campaign trail; and a poor debate showing two weeks ago.
"This was a performance you can sell to donors and keep the fundraising going strong," Heather Larrison, Bush's finance director, told fundraisers on a private call on Tuesday after the debate, according to a participant who requested anonymity.
"Clear rebound," Mike Murphy, head of the pro-Bush super-PAC Right to Rise USA, said in an e-mail. "Jeb was crisp, principled, and without any doubt showed by far the most policy depth on the stage."
The biggest difference for Bush in the fourth debate was a shift in strategy. Instead of his failed attacks against U.S. Senator Marco Rubio, a fellow Floridian whose rise in politics Bush had blessed, the former governor focused his criticisms on Democratic President Barack Obama and the front-runner for the nomination to succeed him.
"Hillary Clinton has said that Barack Obama's policies get an A," Bush said, pointing to poverty and unemployment statistics. "It may be the best that Hillary Clinton can do, but it's not the best America can do."
It was one of several moments when the Republican crowd applauded Bush—music to donors' ears. 
"He did what we were all waiting for," Anthony Scaramucci, a member of Bush's finance committee, said in an e-mail. "He acts and thinks like a pro-growth president."
Bush also injected himself into an immigration debate that unfolded between Trump and Ohio Governor John Kasich, even though it's a topic that puts him at odds with many in the party's conservative base.
Looking past Rubio on the debate stage, Bush criticized Trump's deportation plan, arguing that it would weaken the party's chances for winning the White House.
"It's not embracing American values," Bush said about mass deportations. "It would tear communities apart, and it would send a signal that we're not the kind of country that I know America is."
QuickTake Swerving Path to Citizenship
Trump suggested Bush's position was insulting to those waiting to immigrate legally. "They've gone through the process," Trump said. "Very, very unfair to them. That I can tell you."
When Trump mockingly welcomed Bush's inclusion in the immigration debate, Bush offered his own bit of sarcasm. "Thank you, Donald, for allowing me to speak at the debate," Bush quipped. "What a generous man you are."
Bush also challenged Trump's views on foreign policy, suggesting the real estate excutive would be at more at home on a Hasbro board game. 
"That's like playing Monopoly or something," Bush said about Trump's view that the United States should let Russia take out the Islamic State in the Middle East. "That's not how the real world works. We have to lead. We have to be involved."
Even Trump, who has not hesitated to insult Bush, played nice. "I thought Jeb did fine," he told reporters after the debate. "Jeb was good."
Al Cardenas, a Bush fundraiser and former chairman of the American Conservative Union, called it the "biggest night of the campaign so far."
"He applied the tourniquet, and applied it successfully," Cardenas said. "He gave reassurance to the donors the activists and all of the folks involved in the campaign—reassured them that they made the right choice to begin with, and reassured them moving forward."
Sally Bradshaw, Bush's senior adviser, called it a "really solid night."
"Voters saw what his supporters have known all along—that he can win this race and that he is ready to be president," Bradshaw said in an e-mail after the debate. "Being President is about much more than giving a good speech, or playing to a crowd, it's about showing that you have what it takes to be the commander in chief. Jeb did that tonight."
—Sahil Kapur and John McCormick contributed to this story.