BGC: Here Are the Stocks to Buy and Short as Retail Workers Get a Pay Raise
Brick-and-mortar shops are about to find themselves facing two big pressures, according to BGC.
by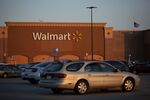 Lower gas prices have freed up more income for consumers to spend at the shops, but that only masks what's poised to become an increasingly difficult profit environment for brick-and-mortar retailers.
A stroll through quarterly corporate conference calls reveals that retail labor is getting a raise, stifling bottom-line growth. These anecdotes are borne out by data showing that retail wages and salaries are rising at a faster clip than for the private sector as a whole, according to a new report from BGC Financial.

This new headwind for retailers comes amid continued secular duress stemming from online retailers, best demonstrated by the ascendancy of Amazon.com Inc., which collectively eat into market share.
"Retail businesses in the U.S. have been fighting a revenue battle against e-commerce challengers for some time, but now they're finding themselves embroiled in a two-front war as rising labor input costs put new pressure on the bottom line," asserts BGC Senior Equity Derivatives Strategist Jared Woodard.
What Woodard terms "Wal-Mart Syndrome"  - a reference to the plunge in the retailer's stock price after projecting its profits would decline in fiscal 2017 largely thanks to labor and e-commerce costs - won't be confined to just the one firm.
Operating margins in the sector, he observes, have space to decline:

"Post-recession corporate planning has focused on leaner operations to defend profit margins, and we see room for margins to revert lower, particularly in the retail industry group where 12-month wage growth of 3.16 percent has far outpaced the private sector average of 2.06 percent," the strategist wrote.
BCG screened for sizable U.S.-domiciled retailers slated to be buffeted by both cyclical and structural forces.
Among the retailers that rank in the bottom quartile of the sales-to-employee ratio, Woodard found revenues, on average, are slightly above the group average. This suggests that the firms with poor ratios "are using employee labor less efficiently than their peers and/or have more headcount-intensive business models," he wrote.
Woodard also note that the average company in this bottom quartile has an analyst rating only modestly below that of firms with better employee-to-sales ratios (once Sears Holdings Corp. is stripped out of the equation), implying that relative pessimism on these names isn't overdone. As such, any downside on the stocks could be accentuated if rising labor costs spur margin compression and prompt analysts to pile on with downgrades after ratcheting down the consensus outlook for earnings going forward.
One way Woodard advises investors to play these trends is by taking a long position in a basket of stocks that aren't likely to get hit as hard by margin compression via rising labor costs and online competition, while simulatanously shorting the companies that are especially vulnerable to these trends.
On the long side, BGC highlights L Brands Inc., Abercrombie & Fitch Co., Lithia Motors Inc., Core-Mark Holding Co. Inc., and Tesco PLC. For the short component BGC names Ross Stores Inc., The TJX Cos Inc., Monro Muffler Brake Inc., JC Penney Co Inc., and The Gap Inc, among others.
"We prefer a long/short basket rather than outright bearish positions in the industry. Higher wages may be expected to pass through to retail sales, especially as the workers who are receiving more income now and are most likely to do so in the future are also the most likely to spend it," Woodard explains. "In our latest broad market update, we recommended overweighting consumer discretionary stocks, and would affirm that judgment."
Before it's here, it's on the Bloomberg Terminal.
LEARN MORE