AB InBev Buys SABMiller for $107 Billion as U.S. Deal Agreed
By and
Takeover will yield $1.4 billion in annual pretax savings

Molson Coors to acquire MillerCoors stake for $12 billion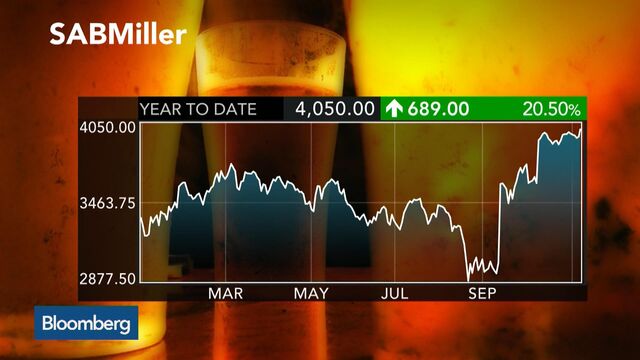 Anheuser-Busch InBev NV made a formal $107 billion offer for SABMiller Plc, sealing a long-anticipated deal that combines the world's biggest brewers into a company controlling about half the industry's profit.
To gain regulatory approval, Molson Coors Brewing Co. will acquire SABMiller's 58 percent stake in MillerCoors for $12 billion, giving it full control over brands like Coors Light and Blue Moon. The Budweiser maker plans to slash annual costs by $1.4 billion, one third of which will come from overlapping head-office roles. The companies didn't say what the new entity will be called, or whether SABMiller's senior management team will remain.
Dubbed "Megabrew" by analysts, the new company will be the world's largest consumer-staples maker by earnings, according to Exane BNP Paribas, generating profits of about $25 billion. The enlarged brewer will have the No. 1 or No. 2 positions in 24 of the world's 30 biggest beer markets, and provide AB InBev its first toehold in Africa, where about 65 million people are due to reach the legal drinking age by 2023.
The deal "promises to transform the global brewing landscape," said Jon Copestake, an analyst at the Economist Intelligence Unit. "The divestment of SABMiller's North American business will placate American regulators to some degree, but there will remain regulatory obstacles to a merger of this size."
Record Loan
The Belgian and Brazilian families that control AB InBev will see their ownership diluted from more than 50 percent to about 44 percent, and will hold nine of 15 board seats. SABMiller's two biggest shareholders, Altria Group Inc. and Colombia's Santo Domingo family, will own 16.5 percent, according to the statement. Altria will have two board seats, the tobacco maker said in a statement. The merged company will be listed in Brussels, Mexico and Johannesburg.
AB InBev will finance the cash part of the transaction from existing resources and third-party debt. It lined up banks to raise $75 billion in financing, a record commercial loan, Allen & Overy Plc said. The law firm advised lenders including Banco Santander SA, Bank of America Corp., Bank of Tokyo-Mitsubishi UFJ Ltd., Barclays Plc, BNP Paribas SA and Deutsche Bank AG.
Biggest Hurdle
The planned sale of the stake in MillerCoors is designed to "promptly and proactively address regulatory considerations," the companies said. The divestment should be completed in the second half of 2016. MillerCoors represented the biggest antitrust hurdle to the merger, analysts have said, though SABMiller's stake in China's CR Snow may also need to be sold.
The $1.4 billion of projected annual savings equals about 9 percent of SABMiller's sales, excluding joint ventures and associates, according to RBC Europe analyst James Edwardes Jones. AB InBev achieved cost savings representing about 18 percent of sales when it bought Anheuser-Busch Cos. in 2008 and 21 percent for Mexico's Modelo in 2013, he said. To achieve those benefits, the brewers said they may have to "implement certain restructurings or reorganizations," without being more specific.
"At 9 percent, we think the company could be low-balling the total number," Edwardes Jones said in a note.
Deal Catalysts
SABMiller shares rose 1.9 percent to 4,050 pence in London. AB InBev gained 2.2 percent to 113.6 euros in Brussels.
The Budweiser maker will pay 44 pounds a share in cash for a majority of the stock, the companies said, confirming a price accord announced on Oct. 13. The price of the cash offer is 50 percent above the closing value on Sept. 14, the day before takeover speculation resurfaced.
For AB InBev Chief Executive Officer Carlos Brito, the combination would cap a $90 billion dealmaking spree over the last decade, turning a regional brewer into the undisputed global leader. The SABMiller proposal is an acquisition partly borne out of necessity, with AB InBev's growth set to slow over the next five years, estimates compiled by Bloomberg show. The Belgian brewer could benefit from access to emerging markets in Latin America and Africa where SABMiller operates, yet it's unclear whether the U.K. brewer's leaders, including CEO Alan Clark and Africa chief Mark Bowman, will stay on.
AB InBev turned to Lazard for financial advice and its corporate broker Deutsche Bank AG. Barclays Plc, BNP Paribas and Bank of America Merrill Lynch also advised the bidder, as well as lawyers from Freshfields Bruckhaus Deringer and Cravath Swaine & Moore. Robey Warshaw, JPMorgan Chase & Co., Morgan Stanley and Goldman Sachs & Co. are advising SABMiller, which sought legal advice from Linklaters and Hogan Lovells International.
(A previous version of this story corrected the ownership details of the proposed new company.)