Five Things Everyone Will Be Talking About Today
by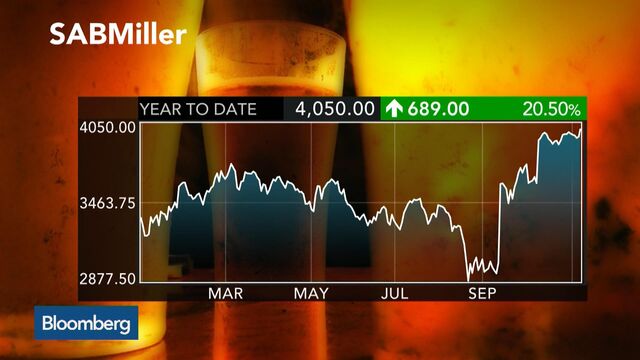 AB InBev makes formal offer for SABMiller, China's economy is rebalancing and U.K. unemployment falls again. Here are some of the things people in markets are talking about today.
AB InBev offer
Anheuser-Busch InBev NV made a formal $107 billion offer to buy SABMiller Plc, with the Budweiser-maker offering GB£44 a share in cash for the majority of the stock, confirming the price agreed upon a month ago. Shares in SABMiller rose 2.80 percent to £40.88 at 10:22 a.m. in London. In other brewing news, shares in Carlsberg A/S rose as much as 8.7 percent in Copenhagen after the beer-maker announced a cost-cutting plan which will see it shed about 2,000 employees. 
China rebalancing
The latest data suggests that China's attempt to rebalance away from a purely industrial economy to one driven more by consumption is bearing fruit. Industrial output in China rose 5.6 percent in October, matching March's reading as the weakest since 2008. Retail sales, on the other hand, beat expectations climbing 11 percent in October, the quickest this year. Today is Singles' Day, an online shopping event in China, which Alibaba Group has been promoting since 2009. Transactions through Alibaba had totaled 70 billion yuan ($11 billion) by 4:30 p.m. in Beijing. The company matched last year's haul in just half the time.
U.K. unemployment
Unemployment in the U.K. dropped to 5.3 percent, the lowest rate in more than seven years in the third quarter, bettering economist expectations in a Bloomberg survey for an unchanged 5.4 percent. That was the good news. On the other hand, earnings excluding bonuses rose 2.5 percent in the same period, slightly below expectations and a drop from the previous quarter's 2.8 percent. The subdued wage data may ease pressure on the Bank of England to hike rates. Sterling rose 0.3 percent to $1.5170 at 11:06 a.m. in London, extending its advance from last week's six-month low.
Iraqi oil puts pressure on shale
19 million barrels of oil are due to arrive by ship from Iraq in American ports this month, the biggest influx from that country since June 2012, as OPEC members continue to defend market share in the face of low oil prices. The tactic seems to be working as yesterday the Energy Information Administration cut its U.S. crude oil production forecast for 2016 by 1 percent to 8.77 million barrels a day. 
Metals rout hits exchanges
The London Metal Exchange is set for weaker volumes this year for the first time since 2008-09 as hedge funds and banks scale back their commodities business in the face of increased scrutiny from regulators and higher fees. The price of industrial metals remain under pressure, with zinc, copper and aluminum continuing their declines.
What we've been reading
This is what's caught our eye over the last 24 hours.
 Want to receive this post, and more, into your inbox every morning? Sign up here
Before it's here, it's on the Bloomberg Terminal.
LEARN MORE