A Fitter China Promises Fatter Profits for Sports Companies
by
State Council targets 5 trillion yuan sports industry by 2025

Nike expects revenue in China to reach $6.5 billion in 2020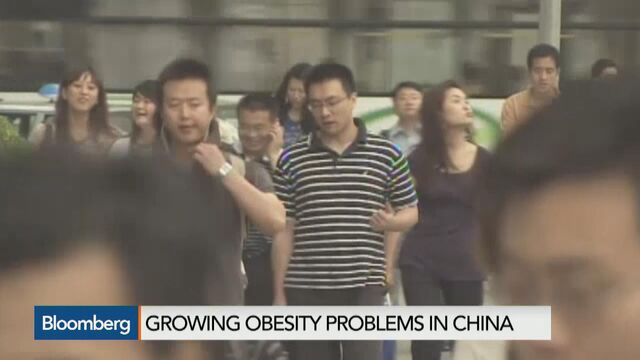 China's government is trying to get its people fitter -- and companies from marathon organizers to sportswear retailers are already looking healthier.
Until now, the nation has been on a decades-long binge: over-indulging on food, cigarettes and booze, and spurning exercise. Now, its cabinet aims to build a 5 trillion yuan ($786 billion) sports industry by 2025, countering a surging diabetes, stroke and cancer epidemic. The current health kick promises to expand sales for companies from Nike Inc. to Dalian Wanda Group Co., owned by Wang Jianlin, China's richest man.

Already dominant in badminton and table tennis, Chinese are increasingly entering mass sports events, including open water swims and triathlons. Wisdom Sports Group plans to triple the number of marathons it will hold in China this year and expects participants to top 10 million this year. That's boosting demand for sports equipment and clothing.
"The Chinese consumers' passion for sport and the culture of sport has never been stronger and, as a result, sport participation is on the rise," Beaverton, Oregon-based Nike said via e-mail. The maker of athletic footwear and apparel predicts its annual revenue in China will reach $6.5 billion in 2020 after increasing 24 percent the past two years, helped by greater women's participation. "Women in particular have fueled the new lifestyle of sport, driving the growth of athletic apparel and footwear globally," Nike said.
China's sports industry will expand more than 19 percent annually to 3 trillion yuan by 2025, Credit Suisse Group AG estimated in September.
Bright Future
Beijing-based Wanda, a closely held company with business interests spanning fitness event management to real estate, said in August it would become the world's largest sports operating company after buying Tampa, Florida-based World Triathlon Corp. for $650 million.
Even after paying 1.05 billion euros ($1.13 billion) earlier this year for Infront Sports & Media AG, a marketing company, and buying Spanish soccer club Atletico Madrid, it's considering a "series of acquisitions" of sports-affiliated businesses, Chairman Wang told a forum at Harvard University in Boston last month.
With four times more people than the U.S., China has a tiny sports industry by comparison, Wang said. "The sports industry in China has a bright future, absolutely," he said. "There is room to grow several dozen times over."
Some of that is likely spurred by a growing awareness of the perils of obesity. The proportion of overweight and obese adults in China jumped to 35.4 percent last year from 30.5 percent in 2010, the World Health Organization said in its Global Status Report on noncommunicable diseases.
Get Moving!
"Rates of overweight and obesity in China are escalating at an alarming pace,' said Bernhard Schwartlaender, the WHO's representative in China, in an e-mail. "The proportion of Chinese people who get enough physical activity is worryingly low. There is an urgent need to get China eating healthier and moving more -- or illnesses like diabetes, heart disease and cancer will overwhelm the health system in the future."

Revenue Wisdom gets from sports will jump about 50 percent to reach 684 million yuan by 2017, Credit Suisse said in its inaugural report on the company in September. It predicts profit will almost double over the same time as Wisdom focuses on managing sporting events. Shares in the Beijing-based company have more than doubled since they began trading in Hong Kong in July 2013, valuing the group at HK$7.18 billion ($926 million).
National Sport
Organizing fitness-focused mass gatherings became easier after China's General Administration of Sport, a regulatory body, announced earlier this year measures aimed at relaxing rules for holding sport events.
China's State Council announced plans to make soccer a national sport in March. Government policies encouraged a rush of investment in sports in the first half of the year, Wisdom Chairwoman Ren Wen wrote in her company's interim report in September. Wisdom plans to expand into basketball and football, while pursuing media rights with CCTV Sports & Entertainment Co. on broadcasting the events.
"The interest from consumers in these events is certain," said Anders Wong, Wisdom's brand manager, in an e-mail. "The majority of Chinese people face such heavy pressures in everyday life, in order to relieve that, as they move up the quality of life chain, we see necessary links for this to develop."
Less grueling forms of exercise are also gaining popularity. Pure Group, a Hong Kong-based operator of upscale gyms, says revenue at its Shanghai yoga outlet jumped 60 percent since January compared with the same period a year earlier, signalling growing popularity for the discipline in mainland China.
"The Chinese are 10 years behind Hong Kong, but they'll catch up in five," said Colin Grant, Pure's chief executive officer.
Before it's here, it's on the Bloomberg Terminal.
LEARN MORE