What Markets Need to Watch in Portugal as Leftists Vow to Oust PM
By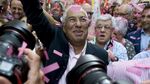 Portugal's opposition party has formed an alliance with three other leftist groups to oust Prime Minister Pedro Passos Coelho at a vote Tuesday and form an alternative government.
The move risks leading to a reversal of austerity measures, confrontation with the European Union over the country's debt reduction plans and the possibility of new elections as early as next year, analysts say.
With rating agencies already expressing concern about Portugal's deficit, there's also a risk the country's credit rating will be downgraded making its bonds ineligible for purchase under the European Central Bank's quantitative easing program.
Who's who
The current government is a coalition of the Social Democrats and the smaller conservative CDS party, led by Coelho; it took 107 of the 230 seats in parliament in the Oct. 4 election.
Support for the coalition is at 40.8 percent, in a survey of voters' intentions on Expresso's website.
The Socialists (PS) are the main opposition party with support at 32.5 percent, according to the same poll.
Led by Antonio Costa, the party has joined forces with the Left Bloc, Communists and Greens hoping to form a government and implement an alternative program.
The Socialists have 86 members in parliament, the Left Bloc 19, the Communists 15 and the Greens 2.
What's the latest/likely outcomes
The PS, along with other leftist groups, says it will present a motion to reject Coelho's program.
If it succeeds, the country's president Anibal Cavaco Silva will then have to decide who should form the next government.
Silva is likely to give the mandate to Costa's party now that he appears to have a viable alternative, strategists at the Royal Bank of Scotland PLC say.
Analysts at JPMorgan Chase & Co. say, however, that the president could appoint a caretaker government instead, even as recent speeches suggest he seems more open to a left-wing government than in the past.
A leftist govt doesn't look sustainable given policy differences within the grouping, Commerzbank AG strategists say.
What does this week's vote mean for markets
More than 100 Portuguese business leaders signed a letter saying uncertainty may jeopardize the economic recovery.
Deutsche Bank AG says the main impact of the left-wing grouping forming a government is a fiscal relaxation including a higher minimum wage and a reversal of cuts to public sector wages and pensions.
That said, analysts at Deutsche Bank say PS is unlikely to want any outright fiscal expansion given their stated desire to stay within EU rules.
The European Commission and the country's euro-area peers have plenty of tools to exert pressure on a new government, given Portugal's draft 2016 budget is already overdue, but they would need to be careful that any pressure isn't counterproductive, Deutsche says.
JPMorgan expects early elections under almost all scenarios.
RBS says these political and economic concerns mean they are avoiding Portuguese sovereign bonds.
Even the country's pole position as the main QE beneficiary arguably provides inadequate compensation for the elevated political risk, Rabobank Groep analysts say.
The country's bonds may remain volatile and spreads may widen further into the vote but that provides opportunities to re-enter the Portuguese curve, Gianluca Ziglio, executive director of fixed-income research at Sunrise Brokers LLP writes, adding that recent developments point to the possibility of near-term political stability and some degree of policy continuity.
Commerzbank is also constructive on Portuguese bonds over the medium term, saying the risk-reward may improve before long, once there's more clarity especially if the country doesn't sell any more.
For now, there's little sign of contagion to other peripheral bond markets, although neighboring countries have political issues of their own.
What about ECB QE
Political uncertainty is exacerbated as ratings company DBRS is due to review its rating on Portugal on Friday. If they were to downgrade their view that could prevent Portuguese bonds from from being eligible for the ECB's bond-buying program.
Before the election last month, Standard & Poor's warned policy slippages could jeopardize Portugal's medium-term fiscal and economic trajectory, lead to significant deterioration in external financing conditions, while Fitch has said meeting the EU deficit and debt reduction targets will be challenging for the country.
ECB bond buying has been particularly effective for Portugal so becoming ineligible could have a substantial impact on yields, Deutsche analysts say.
Deutsche and Commerzbank analysts though say it's unlikely DBRS will downgrade the country as soon as this week as the fiscal impact of any political developments will remain unclear.
The pair do think DBRS could change its outlook to negative.
Commerzbank says if bonds became ineligible a waiver allowing the ECB to keep buying them may be possible while Deutsche says the ECB's response may spur new discussion about euro-area decision-making and could challenge the bank's assertion it's a rules-based institution.