markets
Wall Street: Forget Cold Weather; Warm Temperatures Can Also Hurt Retail Sales
Not too hot, not too cold. Shoppers need the weather to be just right, apparently.
By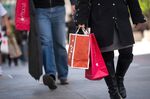 Retailers just can't seem to win.
When it's abnormally cold, people stay at home to avoid the elements. When it's warm, they don't want to go out to buy sweaters and snow gear, according to analysts at Bank of America Merrill Lynch.
BofAML is joining Morgan Stanley in the "warm weather, cool sales" argument. In a note sent to clients on Tuesday, a team led by U.S. Economist Michelle Meyer argues that abnormal weather is dampening sales.
There has been a late start to the winter this year: the average temperature in October was 57.4 degrees Fahrenheit, which is the highest since 1963 and above the historical average of 54.3 degrees. Intuitively, this would depress sales of cold weather apparel, such as coats, hats, boots, etc. We therefore created an aggregate of retailers and brands that have a large composition of such apparel, dubbed "cold weather aggregate (CWA)" to see if there is a relationship with weather patterns in October. As we show in the Chart of the Month, the CWA declined 2.5 percent. ... This is not the first time weather played a role. In 2009, there was abnormally cold weather and, in turn, a surge in the CWA. If weather is playing a role, we would expect a bounce back in November, although it could be muted by heavier discounting.

 
In a note issued late last month, Morgan Stanley said that the warm weather is one of four factors that could limit seasonal sales. Not all analysts agree with that assessment, however. Deutsche Bank, for instance, expects strong holiday sales following a recent Gallup survey that showed consumers have the highest spending intentions since 2007.
The note, sent out by Chief International Economist Torsten Sløk, did not address the weather.  
Before it's here, it's on the Bloomberg Terminal.
LEARN MORE