Vodafone to Desert the Pound for Euro as Sterling's Clout Wanes
by and
Britain will hold vote on EU membership as early as next year

Mobile phone company gets about half of its revenue in euros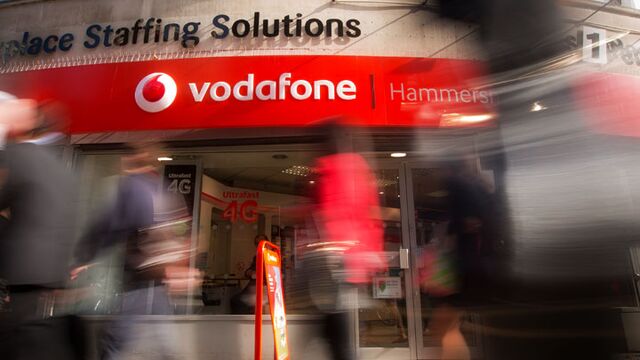 Vodafone Group Plc is joining the exodus from the pound as Britain's relationship with the European Union gets choppier.
The U.K.-based mobile-phone company will start reporting its financial results in euros beginning next year, the company said on Tuesday. With the switch, only three of the 10 biggest companies in the FTSE-100 stock index will publish their accounts in sterling.
The decision reflects the diminishing role for the British currency in global business and comes as Prime Minister David Cameron seeks to reconfigure his country's ties with the EU before an in-or-out referendum as early as next year. While Vodafone Chief Executive Officer Vittorio Colao said the switch to the euro wasn't based on politics, he told Bloomberg Television that an exit from the EU would be detrimental.
"It would bring more complexity, more costs for our shareholders, but also to our customers," he said in an interview with Guy Johnson airing on Tuesday.  "If the vote goes in another direction, we'll make our own assessment."
More Euros
Since selling its stake in U.S. business Verizon Wireless last year, Vodafone generates about half its revenue in euros. Chief Financial Officer Nick Read said on a call with reporters that the U.K. business accounts for about 10 percent of the group.
Oil producers such as BP Plc and Royal Dutch Shell Plc choose to report in dollars because that's the currency their product is priced in globally. Brewer SABMiller Plc and drugmaker AstraZeneca Plc also opt for the U.S. currency, while Unilever Plc reports in euros. For most of the biggest multinationals, the U.K. is too small a market to justify compiling their accounts in sterling and helps iron out exchange-rate swings.
The British currency makes up less than 5 percent of worldwide official foreign-exchange holdings compared with 20 percent for the euro, according to data from the International Monetary Fund.
The pound has gained 9 percent against the euro this year as Greece's standoff with creditors and weaker economic growth than the U.K. dragged on the shared currency. Sterling is down 3 percent versus the dollar.
"I can see some sense in it," said Kit Juckes, global strategist at Societe Generale SA in London. "The right thing to do is report in the currency where you get the majority of your earnings."
Before it's here, it's on the Bloomberg Terminal.
LEARN MORE