Vodafone CEO Colao Warns of `Re-Monopolization' in U.K., Germany
by and
CEO wants EU to regulate BT, Deutsche Telekom more strictly

Regulators should encourage parallel networks, CEO says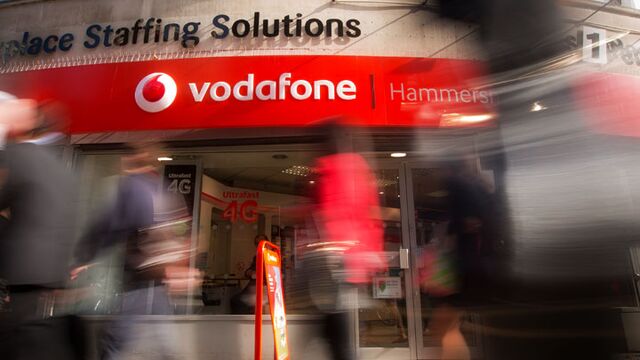 Vodafone Group Plc Chief Executive Officer Vittorio Colao urged European regulators to examine the former state phone companies of Britain and Germany for signs that the old monopolies are reappearing.
BT Group Plc and Deutsche Telekom AG are modernizing older copper networks with the support of regulators and taxpayers' funds, to the detriment of newer, faster, fiber technology, Colao said on a call with reporters Tuesday.
"The European Commissioner, who has shown not to be afraid to take on powerful forces, should look at the risks of re-monopolization in Europe," Colao said. Regulators "should favor real fiber investment."
Vodafone competes against BT and Deutsche Telekom, both of which have roots as government-run landline phone carriers before being privatized and expanding to services such as wireless, broadband and TV access. Vodafone, founded in the 1980s, got its start as a wireless carrier before expanding to fixed-line services.
Colao repeated calls for a breakup or tighter regulation of BT and its Openreach unit, which resells access to the national network in the U.K. at regulated rates to BT's competitors. Local watchdog Ofcom is conducting a review of the telecommunications market and may consider splitting up BT.
Openreach Debate
BT Chief Executive Officer Gavin Patterson has said it needs to keep Openreach in the fold to ensure continued investment in the network. The company has pledged to offer high-speed Internet coverage to more than 95 percent of the U.K. and sell "ultrafast" service with speeds up to 500 megabits per second to 10 million homes by the end of 2020.
"In the U.K., in order to run a parallel infrastructure, we need access to the Openreach duct, and it's not economic to do that," Colao said. "The performance is pretty bad, so it's pretty hard to market to customers something when your main supplier is actually your competitor and doesn't play ball."
The U.K. is one of the most competitive telecommunications markets in the world and a leader in broadband coverage, BT said in an e-mailed statement responding to Colao's comments. "BT has invested heavily whilst other companies have sat on the sidelines with their hands in their very deep pockets," the company said.
EE Takeover
Deutsche Telekom, Europe's biggest phone company that's about 32 percent owned by the German state, has offered to spend 1 billion euros ($1.1 billion) to provide about 6 million households with high-speed Internet connections with so-called vectoring technology that upgrades existing copper lines. Deutsche Telekom's competitors as well as German mechanics' lobby groups have protested the plan, saying it would hurt competition by granting the Bonn-based company exclusive access to key network infrastructure.
There is no "re-monopolization of networks" in Germany and Deutsche Telekom offers access to its infrastructure, said Philipp Blank, a spokesman for the carrier. Also, nothing prevents competitors from expanding fiber networks, he said. "We stand for infrastructure competition and we will gladly face it," Blank said.
BT's acquisition of U.K. mobile operator EE will make matters worse, Colao said. As part of the deal, Deutsche Telekom, one of EE's owners in a joint venture, will get a stake in the combined company.
"The biggest shareholder of BT will be a German monopoly -- a recreation of the monopoly with a strong shareholding of another monopoly," Colao said. "It is important we consider the implications."
Before it's here, it's on the Bloomberg Terminal.
LEARN MORE