United's Dominance at Newark Hub Attacked as Monopoly by U.S.
by and
NYC flight-slot deal in focus as Delta also named in complaint

Transaction is good for customers, helps service, United says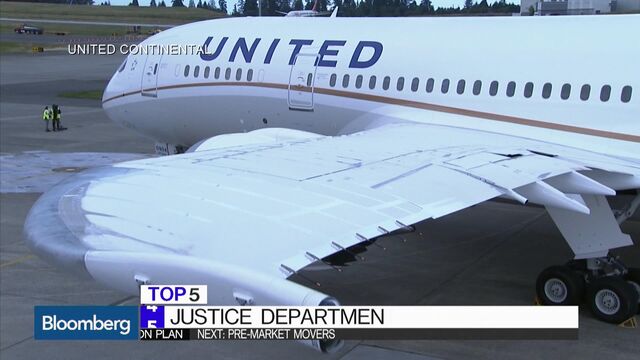 The U.S. sued United Continental Holdings Inc., seeking to block its acquisition of takeoff-and-landing rights from Delta Air Lines Inc. at New Jersey's Newark Liberty International Airport, saying the deal threatens to raise fares.
"Allowing United to acquire even more slots at Newark would fortify United's monoply position," said Bill Baer, head of the Justice Department's antitrust division, on a conference call with reporters. "That would leave the 35 million air passengers who fly in and out of Newark every year holding the bag."
Baer is stepping up antitrust enforcement in the airline industry after a decade of mergers -- all blessed by the division he now heads -- produced four major U.S. carriers that dwarf their peers. He is investigating whether the big airlines colluded to prop up fares and sued to block the 2013 American-US Airways tie-up before reaching a settlement that included divesting New York and Washington flight slots to discounters.
New Front
By accusing United of unlawfully trying to maintain a monopoly, Tuesday's complaint opens up a new front in Baer's battle to spur competition. The suit, which also names Delta as a defendant, alleges both carriers violated antitrust laws by entering into an agreement that restrains trade. The deal calls for United to get 24 more Newark flight slots.
"Today's action by DOJ suggests greater antitrust scrutiny in markets that have consolidated to just a handful of players," said Jonathan Kanter, an antitrust partner at Cadwalader, Wickersham & Taft LLP in Washington, who isn't involved in the transaction or the lawsuit.
United fell 0.1 percent to $60.06 in New York after sliding to the lowest price of the day on news of the lawsuit. Delta fell 0.7 percent to $50.30.
United had agreed to lease the Newark slots from Delta in a $14 million transaction, according to the complaint. Delta also has a deal to lease slots at New York's John F. Kennedy International Airport from United. That accord isn't subject to the lawsuit. Newark, JFK and LaGuardia airports are bound by federal controls on takeoff and landing slots.
"We firmly believe this transaction benefits our customers and the region by enabling us to enhance service at our Newark hub and manage congestion at the airport," said Rahsaan Johnson, a United spokesman. "We will vigorously defend our ability to operate effectively, efficiently and competitively at Newark."
Overseas Gateway
Delta spokesman Trebor Banstetter said the lawsuit didn't affect the airline's agreement to lease slots from United at JFK.
United's hub at Newark Liberty International is a gateway for overseas flights for the world's second-biggest carrier. United had 48 percent of passengers in the 12 months ended in July, not counting flights made by regional partners such as SkyWest Inc.'s ExpressJet, according to data compiled by the U.S. Bureau of Transportation Statistics.
In June, United said it was dropping service at New York's Kennedy airport -- where JetBlue Airways Corp. and Delta are the leading tenants -- to consolidate operations at Newark.
'Newark Premium' 
United is the "monopoly nonstop provider to 139 of the 206 destinations served nonstop from Newark," according to the complaint. United also controls 73 percent of the 1,233 slots that the Federal Aviation Administration has granted to airlines at Newark, according to the filing. The Justice Department said United has been able to exercise monopoly power by extracting a "Newark premium" charged to consumers for tickets.
The new lawsuit won't affect United's recent decision to pull out of JFK and transfer the premium service it had based there to Newark, United spokesman Johnson said.
United's offering gives customers international-level food and amenities on transcontinental routes across the U.S., competing with similar offerings from Delta and American Airlines Group Inc. To facilitate the change, United moved some Boeing 757s that had been used on European routes back to the U.S. Those changes have already been implemented and won't be hindered by the lawsuit, Johnson said. He couldn't comment about any future effects of the Justice Department suit.

"This enforcement action highlights the harm that airline mergers and the increased market concentration are doing to consumers," said George Slover, senior policy counsel for Consumers Union, which is the public policy and advocacy division of Consumer Reports. "This concentration makes it too easy for airlines to restrict consumer choice and jack up fares."
Baer said on the conference call that the Delta transaction is United's third attempt in the last year and a half to restrict competition by buying slots at Newark. United abandoned both efforts after the government expressed concerns, Baer said.
In July 2014, United tried to reacquire 36 flight slots leased to Southwest in 2010, when former parent parent UAL Corp. combined with Continental Airlines Inc. to form the current company. In March 2015, United tried to acquire 18 slots from American, Baer said.
The Justice Department's suit comes a week after five smaller airlines complained to the Department of Transportation and FAA about a lack of access to New York-area airports. The Justice Department cited the letter from the five carriers in its new lawsuit. 
In the letter, Alaska Air Group Inc., Virgin America Inc., Allegiant Travel Co., Spirit Airlines Inc. and Frontier Airlines Inc. urge the federal government to change the way it allocates slots at Newark, JFK and LaGuardia.
"In short, large incumbent carriers consciously seek to maintain their vise grip on hundreds of slots while new entrants with specific plans to introduce new service at these airports struggle to obtain (through allocation or purchase) even one or two slot pairs," the airlines wrote.
The case is U.S. v. United Continental Holdings Inc., United District Court for the District of New Jersey.
Before it's here, it's on the Bloomberg Terminal.
LEARN MORE