This Streaming Service Wants You to Veg Out and Channel Surf
Startup Pluto TV wants to choose your shows for you. It thinks streaming should be more like regular TV.
By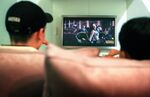 Watching Netflix doesn't seem arduous. You sit down, fire up the app, choose the show you want, and the next thing you know you've dedicated seven hours of life to watching Narcos. But Tom Ryan, the co-founder and chief executive officer of Pluto TV, thinks Netflix is too hard.  He is specifically bothered that you have to pick a show instead of just flopping down and settling for whatever happens to be playing. "It really does front-load a lot of work," he said. "People want to work less for their entertainment."