This Streaming Service Wants You to Veg Out and Channel Surf
Startup Pluto TV wants to choose your shows for you. It thinks streaming should be more like regular TV.
by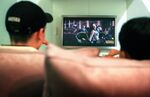 Watching Netflix doesn't seem arduous. You sit down, fire up the app, choose the show you want, and the next thing you know you've dedicated seven hours of life to watching Narcos. But Tom Ryan, the co-founder and chief executive officer of Pluto TV, thinks Netflix is too hard.  He is specifically bothered that you have to pick a show instead of just flopping down and settling for whatever happens to be playing. "It really does front-load a lot of work," he said. "People want to work less for their entertainment."
At a time when most Internet video services describe themselves in opposition to cable television, Pluto is trying to build a service that feels like traditional TV. Its app looks like a standard cable television guide. When users open it, whatever channel they watched last begins playing immediately. They can change channels, but they don't have the option—or, as Ryan would put it, the burden—of selecting exactly what show they want to watch, at any time they choose.
If Netflix or HBO Now is like Spotify, Pluto is more like Pandora. This is curious because Pluto recently brought on Ken Parks, Spotify's former chief content officer, as its executive chairman. Plenty of people use both an on-demand music service and an Internet radio service, and Pluto TV is based on the idea that the same will be true of Internet video services. The company doesn't disclose much information about its user base, but Pluto's Android app has been downloaded more than 500,000 times. It does say that the average session is over an hour long, which is valuable to a company whose business model is based on advertising. 
If people really are looking for a channel-flipping app, Pluto TV's biggest shortcoming is that the channels you can flip through lack the signature programming that many people assume is necessary to drive an Internet TV offering. To date, much of its content has been YouTube or Vimeo videos that the company has repackaged to resemble linear channels. The service can feel like that part of the cable bundle you scroll past while trying to remember the number for the NFL Network's HD channel.
On Tuesday, Pluto is announcing a handful of new content deals with NBC News, Reuters, Paramount, 120 Sports, CNET, Legendary Digital, and Corus Entertainment, although it's not clear that this can move its needle. (Bloomberg TV is one of Pluto's existing partners.) Since Pluto's service is free, it makes money by inserting advertisements into the channels it has created. 
At Spotify, Parks was in charge of cutting deals with record labels. After sometimes tense negotiations, Spotify did manage to sign all the major labels. A similarly comprehensive deal across traditional television outlets seems not to be in the cards for Pluto TV. Instead, Parks said, the service will focus on trying to become an aggregator for the ever-increasing wave of digital subscription services; there are niche subscription services for everything from kids' shows (Nickelodeon) to art house movies (Fandor) to horror flicks (Screambox). It's already becoming difficult to keep track of the various services on the market, and Pluto TV hopes to become a single place where confused viewers can pick a handful of premium services from a single place. 
The Internet video landscape is increasingly chaotic, so there's a need for some sort of central hub at which people can find what they want. But companies with more name recognition than Pluto TV has are already moving in. Apple recently opened an app store for Apple TV devices, allowing developers to pitch wares directly to its customers. In seeking a company to serve as a clearinghouse for video services, consumers might select the company that served that role for MP3s and apps for smartphones. Apps, not channels, are the future of television, according to Tim Cook, Apple's CEO. 
Ryan doesn't exactly disagree. Pluto TV recently submitted its Apple TV app for approval. But he thinks the enthusiasm for infinite choice has missed the point of television in the first place: to sit down and veg out. "The linear format needs a remix," he said. "But it's not dead by any means." 
Before it's here, it's on the Bloomberg Terminal.
LEARN MORE