Thank Mexico for a U.S. Gas Market That Isn't Even More Terrible
by
Cross-border capacity predicted to triple by end of 2019

Pipeline shipments jumped 60% in August from end of last year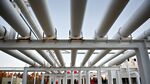 Think the slide in U.S. natural gas prices has been bad? Well, it would be even worse if Mexico wasn't picking up at least some of the slack.
Gas flowing south over the border jumped 60 percent to average a record 3.26 billion cubic feet a day in August from the end of last year. Increased exports, helped by new pipelines, are shrinking the discounts for supplies at the West and South Texas gas hubs versus the U.S. benchmark. 
Mexican power generators and industrial users taking advantage of cheap U.S. shale gas will more than double those pipeline flows in the next five years, said Citigroup Inc. and Genscape Inc. That will help support U.S. gas prices, which have slid to a three-year low because of a domestic glut and sluggish consumption.
"That's the sleeper story," Richard Ennis, head of natural resources at ING Capital LLC, said in an Oct. 31 interview in New York. "In Mexico, if you look at how much natural gas they use, it's tiny. All these new pipelines are going to triple their daily use. It's pretty dramatic."

The discount for spot gas at the Waha hub in western Texas, which feeds lines going into Mexico, versus the benchmark Henry Hub in Louisiana averaged about 10 cents in the past month, down from about 14 cents the same time last year, data compiled by Bloomberg show.
"It is certainly plausible that the absence of those export volumes would cause those hubs' basis prices to collapse," Rick Margolin, senior analyst with Genscape, said in a Nov. 6 e-mail.
Mexico is giving some Texas producers an outlet, in sharp contrast to the Marcellus and Utica, located in Pennsylvania and Ohio, where stranded gas supplies caused prices to plunge last month to less than 80 cents.

While southbound gas deliveries typically rise from January through August, this year's gain "is relatively large compared to previous years," Michael Ford, an analyst with the Energy Information Administration in Washington, said by e-mail last week. "Part of the reason for this is because of pipeline expansions that facilitate natural gas exports to Mexico."
Kinder Morgan Inc. said Monday that a subsidiary joined up with TrailStone Group to form a Mexican gas marketing company to serve industrial consumers and electricity producers. The venture operated by TrailStone is expected to start supplying gas and providing storage service in the first quarter.
Overall, cross-border pipeline capacity will jump by 13.5 billion cubic feet a day by the end of 2019 from about 5.5 billion in mid-2014, Citigroup estimates.
As a result of the increase in U.S. supplies, Mexico is meeting less of its gas needs with domestic production or LNG imports. The country's output met 60 percent of consumption last year, down from 80 percent in 2010, according to a Barclays Plc report released last month.
"Fom a pure price perspective, it makes economic sense for Mexican consumers to draw from lower cost U.S. supplies," Margolin said. "We believe there is significant pent-up industrial demand for both gas and gas-fired power generation to support that demand growth."
Before it's here, it's on the Bloomberg Terminal.
LEARN MORE