Spain's Potential Trudeau Offers Chance to Heal Catalan Divide
by and
Albert Rivera sees Spain on verge of `new era' without Rajoy

Liberal steered Ciudadanos into contention for Dec. 20 ballot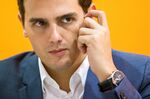 Albert Rivera aims to match Canada's new prime minister and fellow liberal Justin Trudeau by completing a meteoric rise to power in Spain's general election next month.
If he falls short, there's a European leader from the same political family whose experience Rivera plans to avoid.
"Nick Clegg is a good example of what we don't want to do," Rivera said in an interview in Barcelona Monday, recalling the former British deputy prime minister's humiliation in this year's U.K. election after five years as the junior partner in a coalition with David Cameron's Conservatives.
"I would prefer to look to Trudeau," said Rivera, who turns 36 this week. "He got the victory."
The parallels between the Canadian leader and the pro-market Spanish insurgent hoping to topple Prime Minister Mariano Rajoy go beyond their shared liberal ideology.
Trudeau upended Canadian politics last month, vaulting from third place to first over the course of the election campaign; Rivera is targeting the premiership in the Dec. 20 ballot less than a year after his group Ciudadanos set up a national party. Like Trudeau's father Pierre, who governed Canada between 1968 and 1984, Rivera showed his political chops standing up to separatists in his home region who want to break his country apart.
Separatist Challenge

Rivera has surged in polls since the Catalan ballot in September when Ciudadanos won more than twice as many votes as Rajoy's People's Party to establish itself as the leading opponent of the separatist movement. Now he wants to lead a wholesale renewal of the Spanish state to persuade his fellow Catalans they'll be better off sticking with the rest of the country. Ciudadanos plans to reduce the government's influence on judges as part of a campaign to tackle corruption and beef up regulators to help increase competition in areas like the power industry.
"This is a new era," he said in his party's gleaming headquarters in the Catalan capital, the white-and-orange walls inscribed with a quotation from John F. Kennedy ('Ask not what your country can do for you...'). "People are waiting for change."
Even if the PP gets the most votes next month, Rivera may get the chance to enact that change if he can win more seats than the main opposition Socialists to place second, according to Antonio Barroso, a political analyst at Teneo Intelligence in London. With Rajoy's personal ratings close to a record low, the Socialists might be more willing to back Ciudadanos than their traditional rival.
Latest polls suggest Ciudadanos might just do it. The party had 20.2 percent support, 0.6 percentage points ahead of the Socialists, in a survey released by TNS Demoscopia Monday, up from 13.6 percent in August. The PP led with 26.3 percent, down from almost 45 percent at the last election and far short of a governing majority.
Losing Votes
Voters have drained away from the PP and the Socialists, who've alternated in power for the past three decades, as details have emerged of the corruption and mismanagement that dragged Spain into its worst economic slump since the return to democracy in 1978. Unused infrastructure and unsold homes litter the country to remind people of the waste as the list of politicians accused of taking kickbacks grows.
That backdrop of dismay at the political class in Spain has fueled the rise of both the anti-austerity Podemos movement and Rivera's Ciudadanos.
"In Spain we've had eight or nine years of this crisis," Rivera said. "It's not just an economic crisis, it's a political crisis -- a crisis of people's trust in politicians."
Still, with the economy growing at close to the fastest pace in seven years, Rajoy argues that voters would be risking the recovery if they entrusted the country to a political newcomer who has never held public office. Rivera dismisses the charge.
"I don't have any experience building empty airports or hollowing out saving banks," he said. "I don't have any experience of missing budget targets."
Instead, he pledges to downsize the public administrations, reduce taxes and introduce a single kind of labor contract to reduce the division between temporary and full-time workers.
Avoiding Coalition
Unless he's in a position to lead the next government, Rivera said he won't enter a coalition and would prefer to support a minority government on a policy-by-policy basis. He is unwilling to compromise as Clegg did in 2010, saying the then-party leader went into coalition with Cameron "and in the first two weeks of the government he lost the trust of all people who voted for the Liberal Democrats."
If Rivera does prevail, he will become the first Catalan to govern Spain since 1873 just as the region is agitating for independence. As King Felipe often speaks Catalan when he visits the region, so Rivera said his ability to literally speak the same language as the separatists may help persuade Catalans that the central government is listening to their demands.
A telegenic lawyer by training who wears an open-necked shirt and a fabric bracelet with his suit, Rivera ascribed his party's popularity more broadly to the desire for a break with the past.
"People are asking for solutions," he said. "We have more proposals for this new age."
Before it's here, it's on the Bloomberg Terminal.
LEARN MORE