SEC's White Says Short Selling Getting Her 'Intense Attention'
by and
Agency has been looking at possibility of disclosure rules

Questions arise after shares of Valeant, Mallinckrodt plunge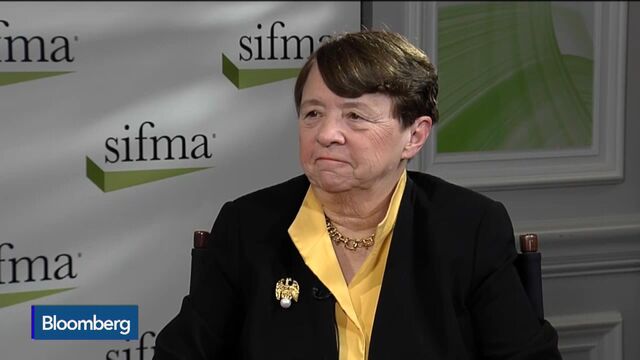 U.S. regulators are reviewing whether to make short sellers step out of the shadows, as negative comments by research firms increasingly batter share prices.
"It's a complex sort of landscape, but it is an issue that has our intense attention," Securities and Exchange Commission Chair Mary Jo White said during an interview on Bloomberg Television on Tuesday in response to a question about whether the agency would consider rules requiring short-selling disclosures by investors. She declined to discuss specific companies.
Drugmaker Mallinckrodt Plc shares fell 17 percent Monday after it was criticized on Twitter by Citron Research, a stock commentary site led by short seller Andrew Left. Last month, Citron sparked a rout of Valeant Pharmaceuticals International Inc.
The SEC requires hedge funds to report their long positions periodically, but it has no such rule for their short positions, or those that bet against stocks. In Europe, hedge funds have had to disclose individual shorts of as little as 0.2 percent of a company's market value to their national regulator since 2012. They have to publicly disclose shorts that total 0.5 percent.
"Short selling has a legitimate, positive purpose in the marketplace," White said. "That's very different, though, than if you manipulate by short selling."
Valeant Shares
More disclosure wouldn't necessarily affect short sellers like Citron's Left, who makes his bearish views of companies public. Mallinckrodt has "significantly more downside" than Valeant, Citron said in a Twitter posting on Monday. The firm had previously accused Valeant of inflating sales using specialty pharmacies such as Philidor RX Services. From 2010, Valeant shares rose more than 10-fold to peak in August. Since then, they have lost 67 percent of their value as of Monday's close.
White said Twitter is an information source that must be policed actively, and a 140-character Twitter posting and a four-hour presentation are essentially the same.
The SEC has faced calls from the New York Stock Exchange to force investors to identify the stocks they are short selling. In an Oct. 7 letter, the NYSE urged the regulator to "bring light to a less transparent and increasingly consequential corner of the securities market."
In addition to short selling, investors have other means, including using derivatives, to bet against a stock.
Before it's here, it's on the Bloomberg Terminal.
LEARN MORE