Pfizer, Allergan Said to Discuss Making Saunders CEO in Deal
By , , and
Eventual split would give Saunders faster-growing business

Companies said to aim for agreement before Thanksgiving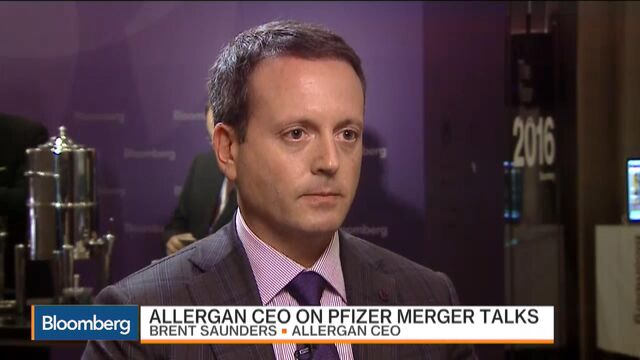 Pfizer Inc. and Allergan Plc are moving toward a plan to make Brent Saunders chief executive officer if the two drug giants reach a takeover agreement, according to people familiar with the matter.
A combined Pfizer and Allergan would probably split into two companies eventually, with Allergan CEO Saunders taking the helm of the faster-growing business of new brand-name drugs, said the people, who asked not to be identified because negotiations are private. The other unit would contain older products at or near the end of their patent lives.
The largest U.S. drugmaker said last month it was in "preliminary friendly discussions" about combining with Allergan. An acquisition of Allergan, which is incorporated in Dublin and run from New Jersey, would give Pfizer a low-tax legal address abroad and valuable drugs like the Botox anti-wrinkle treatment. The companies could agree on a deal by Thanksgiving, celebrated in the U.S. on Nov. 26, people familiar with the matter said last week.
Pfizer is led by Ian Read, 62, who has been CEO since 2010. Pfizer spokeswoman Joan Campion and Allergan spokesman Mark Marmur declined to comment.
The idea of a Pfizer breakup was popularized in 2012, when a Goldman Sachs analyst suggested that the company might be worth more in pieces than as a whole. Since then, whether or not the company would pull the lever to do so has been the subject of constant speculation, though Pfizer has said it couldn't happen until at least 2017. Allergan itself is in the process of a split under Saunders's leadership, after agreeing in July to sell its generics business to Israel's Teva Pharmaceutical Industries Ltd.
Saunders, 45, spent his first dozen years in the health-care industry largely in compliance positions. A graduate of the University of Pittsburgh and the Fox School of Business in Philadelphia, he became a CEO for the first time in 2010 with Bausch & Lomb Inc. Three years later he sold the eye-care company to Valeant Pharmaceuticals International Inc. for $8.7 billion.
After Bausch & Lomb, activist investor Carl Icahn endorsed Saunders becoming CEO of Forest Laboratories Inc. Soon after, Actavis Plc bought Forest and Saunders became CEO of the combined entity, with the acquirer's chief executive Paul Bisaro assuming the role of executive chairman. They both remain in place at Allergan, whose name Actavis took after their 2014 merger agreement.

Read took the helm at Pfizer after a turbulent period for the drugmaker that ended with the ouster of CEO Jeff Kindler. A chemical engineer by training, he joined Pfizer in 1978 as an accountant, then rose through the drugmaker's ranks to run its worldwide pharmaceutical businesses. Since Dec. 5, 2010, when Read was named CEO, the stock has doubled from $16.72 to more than $33.
Since taking over, he has overhauled the company's R&D operations, cutting struggling programs like allergy and respiratory drugs to focus on cancer, neurology, inflammation, vaccines and immunology.