Neel Kashkari Named Next Minneapolis Fed President
by
Kashkari is a former Goldman Sachs and Pimco executive

Made unsuccessful run in 2014 California governor's race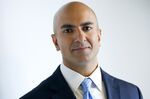 Neel Kashkari, a former financier who managed the U.S. Treasury's $700 billion rescue of banks in the 2008 crisis, was named the next president of the Federal Reserve Bank of Minneapolis.
Kashkari's resume includes stops at Goldman Sachs Group Inc. and Pacific Investment Management Co., and a failed run for governor of California last year. At the Treasury, he was Secretary Henry Paulson's key aide in overseeing the Troubled Asset Relief Program, or TARP. Kashkari will take over from Narayana Kocherlakota on January 1, 2016, according to a statement Tuesday from the Minneapolis Fed.
"He has a little bit of all the pieces you'd want in a Fed president," said Stephen Stanley, chief economist at Amherst Pierpont Securities LLC in Stamford, Connecticut.
As head of one of 12 regional Fed banks, Kashkari will join the Federal Open Market Committee, the central bank's policy making panel. The Fed is weighing ending a seven-year era of near-zero interest rates, with investors betting it will move next month. Kashkari is not scheduled to vote on policy decisions until 2017. Kocherlakota, as is customary for outgoing FOMC members, will not attend the December meeting.
QE 'Morphine'
Kocherlakota is one of the Fed's most dovish policy makers who has argued it should keep rates on hold into next year. Kashkari has offered observations on monetary policy via his twitter feed, without spelling out whether he would favor raising rates or delaying liftoff in the current climate. In an April 2013 comment he likened the Bank of Japan's asset purchase program to "morphine. makes u feel better but doesn't cure."
"I don't think we know that much" about Kashkari's views on monetary policy, said Angel Ubide, a senior fellow at the Peterson Institute for International Economics in Washington. "My experience with people who get appointed is whatever they thought before and what they do later doesn't necessarily correlate."
Kashkari, 42, earned bachelor's and master's degrees in mechanical engineering at the University of Illinois at Urbana-Champaign, and an MBA from the University of Pennsylvania's Wharton School. He began his career as an aerospace engineer at TRW Inc. in Redondo Beach, California.
Goldman Sachs
Kashkari's appointment places another ex-Goldman Sachs banker at the helm of a regional Fed bank. Robert Steven Kaplan at the Dallas Fed and New York's William C. Dudley are Goldman alums. Philadelphia Fed chief Patrick Harker previously served as a trustee at Goldman Sachs Trust and as a member of the board of managers of Goldman Sachs Hedge Fund Partners Registered Fund.
"We're disappointed that yet another former Goldman Sachs insider has been elevated to a regional president position," said Jordan Haedtler at the Center for Popular Democracy in Washington.
Such appointments need "more transparency and public input," said Haedtler, who's deputy campaign manager at Fed Up, a national coalition that's calling for changes at the central bank and wants to keep rates low to boost employment.
Kashkari worked at Goldman in the early 2000s before accepting a post at the Treasury in 2006. He joined Pimco, then led by bond fund manager Bill Gross, in 2009 to help oversee an expansion into equities, an attempt to reduce the firm's heavy dependence on the fixed-income market. When he left in 2013, the company's equity unit had attracted $10 billion in assets, or less than 1 percent of the firm's total assets at the time.
Bank Bailout
TARP, approved by Congress in October 2008, remains one of the more controversial measures taken during the financial crisis. It authorized the government to purchase up to $700 billion in troubled assets from financial institutions, in an effort to bolster global credit markets. The government ultimately used $475 billion, including $250 billion to stabilize banks, $82 billion to bail out auto makers and $70 billion to save insurer American International Group Inc., according to the Treasury's website.
"Mr. Kashkari is an influential leader whose combined experience in the public and private sectors makes him the ideal candidate to head the Minneapolis Fed," said MayKao Hang, incoming chair of the Minneapolis Fed's board of directors and co-chair of the search committee.
Kashkari, a Republican, was defeated by incumbent California Governor Jerry Brown in November 2014, getting 43 percent of the vote to Brown's 57 percent.
Presidents of the 12 regional Fed banks are appointed by a portion of their respective boards of directors, subject to the approval of the Fed Board in Washington. Reserve bank boards typically consist of nine members, including three bankers. The banking members are excluded under Dodd-Frank from participating in the selection of presidents.
Before it's here, it's on the Bloomberg Terminal.
LEARN MORE