pursuits
Modi's U.K. Trip to Mirror Xi's, Minus the `Bowing and Scraping'
By
Growth in China's U.K. trade outpaces India's by nearly triple

Defense, finance and nuclear cooperation on the agenda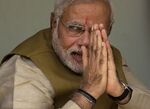 When Indian Prime Minister Narendra Modi visits the U.K. for the first time this week, he'll get almost all the same honors bestowed upon China's Xi Jinping three weeks earlier: lunch with the Queen, a speech to parliament and dinner at a 16th-century gothic mansion.
That's where most of the similarities end.
The U.K.'s trade with India has lagged that of China over the past decade. And Modi lacks the economic clout to deliver anything like the 30 billion pounds ($45 billion) that Xi put on the table, including a one-third stake in the world's costliest nuclear power station.
Instead, Modi will be looking to lure more British cash to India. 

"Both sides will be seeking to boost investment," said Neelam Deo, a former Indian ambassador and director of Mumbai-based Gateway House. "But Modi certainly won't get the kind of bowing and scraping from the U.K. side. That has everything to do with the amount of investment the Chinese are making in the U.K. that India simply can't match."
Modi starts his visit Thursday with a visit to U.K. Prime Minister David Cameron at 10 Downing Street. His trip will include an address to British lawmakers at parliament, lunch with Queen Elizabeth II at Buckingham Palace and a roundtable with CEOs to "explore avenues of more effective economic cooperation," Modi said in a Facebook post. Potential announcements to watch for are:
An expansion of BAE Systems Plc's Hawk advanced jet trainer program made under license in India by Hindustan Aeronautics Ltd. The two companies were discussing the development of a combat version of the trainer jet, India's largest defense contractor said in May.
Agreements for greater collaboration between the financial capitals of London and Mumbai, including development of a deeper bond market in India and ways to make it easier for Indian companies to issue bonds overseas as recommended by a panel set up by the two governments.

A civil nuclear cooperation agreement. Following a 2010 joint nuclear declaration, the two nations began negotiating ways to allow the U.K. to provide both civil and military technology to India and to support India's ambitions to join the major nuclear export control regimes. 
A total 10 billion pounds worth of deals are expected to be signed, the Hindustan Times newspaper reported on Wednesday, without saying where it got the information.


While Modi's visit may be less economically significant than Xi's, it won't be any less colorful. At Wembley Stadium on Friday evening, Modi will seek to rally tens of thousands of overseas Indians in what has become a staple of his foreign trips. He's been greeted like a rock star at splashy events from New York to Sydney to seek funding for pet projects like building more toilets and cleaning up India.
The Wembley event will celebrate India's biggest festival, Diwali. Special "Modi Express Coaches" emblazoned with Modi logos will cart people from nearby towns to the 90,000-capacity arena, according to the organizers' website.
The U.K. is home to one of the largest populations of overseas Indians and shares a long history with India, which it ruled as a colony until 1947. Cameron has ditched a foreign policy that earlier tended to deal with India in relation to its arch-rival Pakistan, and instead focused on India as a rising economic power.
'Disconnect'
Yet Cameron may still struggle to win Modi over completely, said Harsh V. Pant, a professor of international relations at King's College London.
"There's a disconnect -- it's not entirely clear they're on the same page," Pant said by phone from London. "British foreign policy seems very mercantilist -- it's putting all its eggs in trade and commerce with all the emerging powers. But for India, the problem has moved away from Pakistan to China."
Modi has realigned India closer to the U.S. and its allies like Japan and Australia amid shared security concerns, including China's aggressive tactics in the South China Sea. Meanwhile, Cameron has fashioned Britain into China's top partner in Europe.
"Britain has no bigger picture of its own role in Asia," Pant said. "Unless it sorts that out, it's difficult to engage India and China substantively."
(Updates with value of expected deals, in last bullet point.)
Before it's here, it's on the Bloomberg Terminal.
LEARN MORE