business
Five Things That Set Mitsubishi's New Jet Apart
By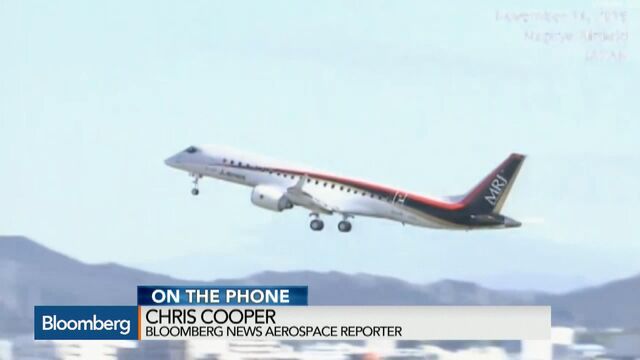 The Mitsubishi Regional Jet, Japan's first new passenger plane in more than half a century, will make its first flight this week. The aircraft will compete directly with planes from Canada's Bombardier Inc. and Brazil's Embraer SA that have fewer than 100 seats and are popular on routes to regional cities from hub airports.
Here are five things you should know about the jet.
It offers more headroom than its rivals (just)
The aircraft, which can seat as many as 92 people, offers more headroom than similar planes. At 2.03 meters, it narrowly edges out the 2 meters for the 88-seater Embraer E175 and the 1.89 meters for the 90-seater Bombardier CRJ900. 

It's already more popular than Japan's last plane
More than twice as many of these jets already have been sold as Japan's previous passenger aircraft — a 64-seat propeller plane that ended production in 1974 — when options and rights are included.
There are cheaper ways to travel 
The MRJ90 has a list price of $47.3 million — approximately as much as 1,700 Toyota Prius cars.

It's lightweight (depending on which scale you use)
The MRJ's maximum takeoff weight is 94,358 pounds (42,800 kilograms), relatively light compared to the 103,600 pounds for the 19-seat Gulfstream G650ER. Still, that's about 180 times the weight of sumo wrestler Akebono, the first non-Japanese to reach the sport's highest rank.

Traveling across the U.S. or Europe? You could be on one soon
The plane's maximum range of 1,780 nautical miles (3,310 kilometers) would allow it to fly between, say, New York and Denver. The biggest buyers of the plane are U.S. commuter carriers SkyWest Inc. and Trans States Airlines Inc. — both of which have hubs in Denver. Mitsubishi also hopes the plane will be popular for routes in Europe.

Before it's here, it's on the Bloomberg Terminal.
LEARN MORE