If You Want to Learn About Gold, Speak to an Indian Sugar Farmer
By and
Crop damage from El Nino threatens jewelry demand from growers

Rural buyers helped make India one of the top bullion markets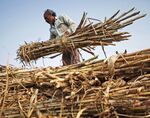 To gain insight into the weakening gold market, talk to an Indian farmer.
In a country where an estimated 800 million people depend on agriculture and many revere gold as an ornament and store of wealth, growers flush with cash during harvest season have helped India vie with China as the world's largest buyer of bullion. Sales usually surge this month in the main festival season of Diwali, with farmers buying gold as religious offerings and elaborate wedding adornments that serve as a bride's dowry. 
Less so this year. El Nino weather patterns have led to the driest monsoon season in six years, reducing farm output and incomes. Farmers like Ranjeet Chavan are cutting back. 
"I was hoping to buy gold earrings for my daughter, but I have given up hope," said Chavan, 35, who grows sugar cane on two acres about 150 miles (240 kilometers) from Mumbai. "The rains weren't great and my crop didn't fare so well. How can we even think of gold?"
He's not alone. Demand is so weak among the rural Indians making up almost 60 percent of domestic gold consumption that dealers who stocked up before Diwali are offering some of the biggest discounts in decades. That can only worsen the environment for international prices already headed for the 21st century's longest run of annual declines. Gold imports to the western state of Gujarat, where farmers grow cotton and wheat, last month fell 87 percent from a year earlier, according to a report in the Times of India.

"Demand in India is very, very poor," Afshin Nabavi, head of trading and physical sales at MKS (Switzerland) SA who works with India's biggest refiner, said by phone from Geneva. "The monsoon is so important in Indian gold demand, below-average rain will definitely have had an impact." Dealers are offering the largest discounts to London prices that Nabavi has seen in the run-up to the festival buying season since at least 1998.
The problems began with India's failure to anticipate this year's full effect of El Nino, which led to unusual weather and threats to crops from Ecuador to Indonesia. Rains, initially seen 7 percent lower than the 50-year average, have come in 14 percent below. The monsoon is the main source of irrigation for India's 263 million farmers.
Demand for gold in India fell about 20 percent year-on-year during the past two El Nino events of at least moderate strength in 2002 and in 2009, World Gold Council and GFMS Thomson Reuters data compiled by Bloomberg show. Bloomberg competes with Thomson Reuters in selling financial and legal information and trading systems. Following the weakness in 2009, a good monsoon conversely contributed to a bounce back in demand the following year, when purchases increased 74 percent year-on-year, according to Suki Cooper, a precious metals analyst at Standard Chartered Plc.
Bigger Discounts
This year, kilogram (2.2 pound) bars of gold were being sold to wholesalers by dealers at a discount to the London spot market after tax of $4 to $11 in the lead-up to Diwali as of Nov. 11, according to a survey of six traders and analysts following the market. That's unusual in a period where strong demand usually results in a premium, they said.
"They got carried away and imported too much," Nabavi said.
Gold for immediate delivery traded at $1,088.69 an ounce in London Tuesday, according to Bloomberg generic pricing. A kilogram of gold at that rate would cost $35,002.15. Indian quoted discounts for gold bars of 99.5 percent purity normally include import duties.
Michael Mesaric, chief executive officer of Valcambi, one of Switzerland's largest gold refiners, cut his outlook for annual Indian imports by 100 metric tons to a total of 850 tons, partly because of weakening demand. Managing director of top Indian refiner MMTC-PAMP India Pvt, Rajesh Khosla, said he'd be "pleasantly surprised" if imports were above the 850 ton figure and thought it was more likely to be in the low 800s. By comparison, they averaged 875 tons in the past five years, according to data from Metals Focus Ltd.

Some observers offer alternative reasons for the discounts offered by dealers than any shortage of demand. Tax breaks brought in on imports of semi-processed gold, known as dore, led to competing supplies of the finished metal from domestic refiners, they say.
"I don't think this is as much an issue of weak demand as it is a fight for market share by India's refiners, who are importing dore at a discount," Chirag Sheth, a Mumbai-based research analyst at Metals Focus, said by phone. "I don't think El Nino has had a big impact on gold demand this year."
Others, though, see signs of slowing consumption. Gold imports in September tumbled by 52 percent from their August levels, according to two finance ministry officials. The effect of poor rains is only being magnified by higher local prices for the metal resulting from a stronger dollar, according to James Steel, the chief commodities analyst at HSBC Securities (USA) Inc.
"We can't blame all of this on the dore issue," Steel said by phone from New York. "We're looking at a wholesale market that's well-supplied and a retail market that's not as strong as many had thought following below-average rainfall."