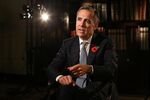 If you'd listened to Mark Carney when he arrived at the Bank of England in the summer of 2013 and then zoned out, there's a chance you have a better handle on the future of monetary policy than someone who's followed the governor's remarks closely. 
Back then, the big idea swirling in the air was forward guidance. Carney introduced the concept on Aug. 8, and the BOE's analysis, which linked policy to unemployment, showed record-low rates were likely to stay until at least the third quarter of 2016.

Fast-forward to last week, when the governor presented a new round of forecasts and interest-rate derivatives showed investors are betting on the first move in -- November 2016. Pretty close.  

So far, so good for forward guidance. But what if you'd listened to everything Carney said in between?
After the unemployment rate unexpectedly fell below 7% in February 2014, far earlier than the central bank forecast, Carney's guidance morphed into references to a vast basket of spare-capacity measures, and a pledge that increases, when they came, would be "limited and gradual." 
Since the original guidance was nullified, the governor's tried to rein in market expectations, he's tried to push them out, and he's said they were fine. And all the while, the benchmark interest rate has been stuck at 0.5%. 
"I don't put too much weight on their guidance these days," said David Tinsley, an economist at UBS in London.  "If they had a much clearer checklist on what data conditions would need to be in order for them to hike, that would be more beneficial than trying to pin the tail on a moving donkey."
Carney said in July that the timing for rate changes would come into "sharper relief" around the turn of the year, and he insisted on this throughout the volatility from China and emerging markets, and a U.K. inflation rate that's stuck around zero. Not to mention Federal Reserve Chair Janet Yellen's recent comment that a U.S. increase in December is a "live possibility."
As the BOE governor presented the bank's new economic projections on Nov. 5, investors reacted by pushing out bets on an increase to as late as the first quarter of 2017. Hours later, in a Bloomberg Television interview, he said that it was "reasonably prudent" to expect a move in 2016. And now, here we are, looking at November next year.
Bank observers are used to the form. On June 12, 2014, he told investors they were behind the curve, and the next day they repriced bets for the first quarter-point increase to Feb. 2015 from May 2015. Two weeks later, as he explained to lawmakers that "developments on the wage front suggest to me that there has been more spare capacity in the labor market than we had thought," lawmaker Pat McFadden said the communications changes made Carney an "unreliable boyfriend." 

So if you'd listened to Carney in August 2013, and then donned some very substantial noise-cancelling headphones, all the drama would have passed you by. How long his latest guidance to markets lasts is another question. The bank says it's reacting to data and events, and there's a lot coming up. With the Fed mulling a rate increase, and the European Central Bank considering more stimulus, it's just as vulnerable to surprises as anyone else. 
"Monetary policy is always data dependent, it would be a dereliction of duty to pretend that it isn't," said Simon Wells, an economist at HSBC in London and a former BOE official. "Perhaps if the bank is guilty of overcommunicating, the market is guilty of overinterpreting."
Before it's here, it's on the Bloomberg Terminal.
LEARN MORE