Goldman Sold Valeant Stock Rather Than Let CEO Add Collateral
by
Bank sold 1.3 million shares backing $100 million loan

Pearson says he wishes he could have put up more assets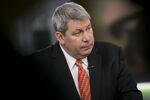 Mike Pearson was willing to ante up to preserve his holdings in Valeant Pharmaceuticals International Inc. -- but Goldman Sachs Group Inc. wouldn't let him.
Instead, Goldman Sachs last week sold 1.3 million of Pearson's Valeant shares that it had been holding to back a $100 million loan to the chief executive officer of the embattled drugmaker. Pearson said Tuesday that he'd wanted to put up more assets as collateral instead.
"Goldman did not give me the opportunity to put any more collateral," Pearson said on a conference call with analysts. "I wish they had, but they didn't."
Valeant held Tuesday's call to explain the company's ties to a controversial pharmacy partner called Philidor Rx Services, and in an effort to regain investor confidence. Yet the shares fell 2 percent to $83.68, deepening this year's rout to 42 percent, amid questions over drug pricing and other business practices.
Pearson had borrowed the money from Goldman Sachs to pay for gifts to his alma mater, Duke University, and to fund a community swimming pool, stock purchases and tax payments, Valeant said in a statement last week. Pearson is paid in performance-based bonuses of cash and stock and receives no cash salary. Loans like the one he took out are a way for executives to pay for their lifestyles while holding on to lots of shares of their companies.
Forced to Sell
When stocks go up, that can be a good bet. But when they fall, the CEOs can be forced to sell. That's what happened to Pearson, whose shares were sold on a day when Valeant hit $73.32, its lowest intraday price in more than two years. Andrew Williams, a spokesman for Goldman Sachs, declined to comment.
On the conference call, Pearson said the arrangement with Goldman Sachs was his only loan backed by company stock. He'd committed 2 million shares to back that loan, or about 20 percent of his total holdings, Valeant said on Friday.
Before it's here, it's on the Bloomberg Terminal.
LEARN MORE