Everything You Need to Know About the Exxon Climate Change Probe
An investigation into the oil giant doesn't need to end in a trial to bring about big changes.
by
For years, energy companies have couched the possible effects of climate change-related regulations in public reports to investors as "uncertain," "difficult," or "not possible" to reasonably predict. Now a probe by New York Attorney General Eric Schneiderman is raising questions as to whether the companies knew more than they were letting on.
Exxon Mobil received a subpoena last week by the state official seeking documents from as far back as the 1970s in a probe that aims to determine whether oil giant lied to investors and consumers, or withheld information about the effects of climate change. On Sunday, meanwhile, Schneiderman reached a settlement with the largest U.S. coal miner, Peabody Energy, in which the company agreed to include more detailed disclosures in reports to investors about the potential costs of climate-related regulations.
Exxon has denied implications that it lied to investors or the public. Peabody neither admitted nor denied the official's findings. 
While environmental advocates have cheered Schneiderman's effort to take energy firms to task over a global crisis, some legal scholars question whether he is the right man for the job. "You wonder why this is the sort of thing that a New York attorney general should be doing," said James Fanto, a professor at Brooklyn Law School. "It seems like it's just completely politically motivated."
Still, the state's powerful Martin Act, a broad anti-fraud statute, could prove the best tool to expose anything companies could be hiding. "The Martin Act is a perfectly appropriate vehicle for addressing issues of investor disclosure," said Tom Sanzillo, director of finance for the Cleveland-based Institute for Energy Economics and Financial Analysis and a former first deputy comptroller for New York State.
Here are answers to some key questions about the probe as it continues.
Why is New York able to bring this investigation?
One of the laws the state is asserting under its probe, according to a source familiar with the matter, is the Martin Act, an almost century-old enforcement statute that predates the U.S. Securities and Exchange Commission.
To prove securities fraud in federal court, U.S. prosecutors must show that a defendant intended to defraud victims and that the investors relied on misstatements or omissions. Under the Martin Act, New York prosecutors aren't required to prove intent, making it easier for New York to bring a case. The statute also allows for the official to launch broad-based investigations.
What does New York need to prove?
In his subpoena to Exxon, Schneiderman is seeking a wealth of documents related to research on causes and effects of climate change, how the information was used in business decisions, financial projects and analysis, and communications with trade groups, according to a source familiar with the investigation.

Under the law, the state needs to find misleading or false statements or omissions from disclosures regarding climate-related costs. Just showing that Exxon did not provide all the information it had in reports may not be enough.
"The big issue for Exxon here is what's material," said James C. Spindler, a business school and law school professor at the University of Texas-Austin. "Assuming they did have some research they didn't disclose, that would be an omission," although it might not be material if "the information is already out there" and available to investors.
A question Schneiderman needs to answer, Spindler said, "is whether Exxon or other similarly situated energy companies are in a special position to have information that the rest of the world doesn't."
What is the likely outcome of the probe? 
Even if Schneiderman discovers enough evidence to bring a case, a lawsuit may not be what he has in mind. Some of the biggest successes under the Martin Act have come as large settlements. The law was used by Eliot Spitzer, a former New York attorney general, to help win a $100 million settlement with Merrill Lynch in 2002 over broker conflicts of interest, as well as a $1.4 billion accord with 10 of the country's largest securities firms over stock research. 
Schneiderman also drew on the Martin Act in helping to negotiate multibillion-dollar joint federal-state settlements with big banks, including JPMorgan Chase and Bank of America, over mortgage-backed securities.
If Exxon "were to really fight this out to the very end, I think they would have a pretty good case," Spindler said. But "probably everybody would be happy with a settlement. Companies tend to be very risk-averse."
Could other energy companies be targeted?
While it's unclear whether other companies are being investigated by Schneiderman, energy-policy advocates say the probe may well expand, especially now that Peabody has reached a settlement. Energy companies are on notice that "they avoid the climate question at their peril at this point," said Sanzillo. "What this is showing the companies is that they, if they are not disclosing appropriately to the investors, are going to find increasing problems." 
Hal Harvey, chief executive officer of clean energy consultancy Energy Innovation, said that the probe reminds him of "the tobacco CEOs holding up their hands in congress and swearing that smoking doesn't harm your health."
Even if a legal case against Exxon is thin, "I do think company credibility is on the line," Harvey said. "They have their CEO and their spokesman, year after year, denying this. It doesn't look good."
And those tobacco companies? They ended up on the hook for $206 billion.
—With assistance from Joe Carroll in Chicago
Watch Next: A Brief History of Global Warming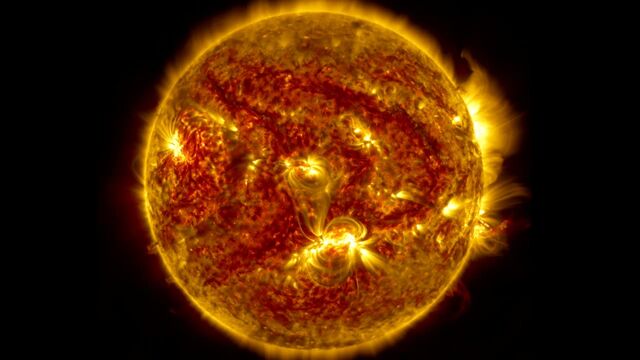 Before it's here, it's on the Bloomberg Terminal.
LEARN MORE