Euro Falls as Investors Weigh Extent of ECB, Fed-Fueled Weakness
by
Lot of market news `baked in the cake': SocGen's Juckes

Shared currency has fallen 5% since ECB's October meeting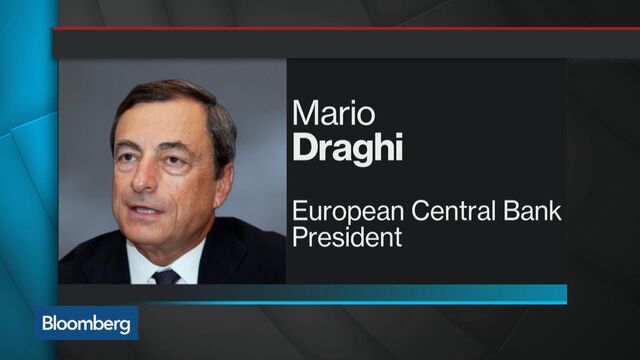 The euro fell to a six-month low as investors weighed how far a potential interest-rate increase by the Federal Reserve and further stimulus by the European Central Bank next month are already priced into foreign-exchange markets.
Europe's shared currency weakened versus most of its major peers after Bank of Finland Governor Erkki Liikanen said the ECB would use all the instruments at its disposal to boost growth. It dropped the most in two weeks on Nov. 6 after a jobs report bolstered bets the U.S. central bank will tighten policy at its next meeting.
Even so, the potential for further euro declines may be limited.
"We have got a lot of news pretty much baked in the cake," Kit Juckes, a strategist at Societe Generale SA in London, said in an interview on Bloomberg Television's "On The Move" with Manus Cranny. "If you think you're going to get euro-dollar significantly lower, you need to get an ECB rate cut, a Fed rate hike and some new additional impetus."
The euro slipped 0.6 percent to $1.0688 at 10:06 a.m. New York time, reaching the lowest level since April 15. It dropped 0.5 percent to 131.81 yen, while Japan's currency was little changed at 123.33 per dollar.
Diverging Policy
The U.S. currency has surged at least 1 percent against each of its major peers this year. Economists predict it will be the first major central bank to start raising rates since the financial crisis.
The euro has fallen more than 5 percent since ECB President Mario Draghi said on Oct. 22 that officials will reexamine their monetary stimulus program in December and that they've discussed cutting the bank's deposit rate to boost inflation.
As well as Liikanen, ECB Vice President Vitor Constancio and executive-board member Benoit Coeure are also speaking on Tuesday.
"You missed the dollar rally, it's happened," David Bloom, the global head of currency strategy at HSBC Holdings Plc in London, said on Bloomberg Television's "Surveillance" with Francine Lacqua and Tom Keene. Draghi "can't repeat the trick. If you keep pulling the rabbit out of the hat, eventually it gets boring. It's priced in."
Euro Rebound?
HSBC predicts the euro will climb about 12 percent to $1.20 by the end of 2016, while the median forecast in a Bloomberg strategist survey is for the 19-nation currency to remain little changed at $1.07.
The odds of a rate increase at the Fed's December meeting are 66 percent, futures contracts indicate. The calculation is based on the assumption that the effective fed funds rate will average 0.375 percent after liftoff, versus the current target range of zero to 0.25 percent.
"At around 70 percent, you're not going to get a considerable further currency move with five weeks until the meeting," said Derek Halpenny, the London-based head of European markets research at Bank of Tokyo-Mitsubishi UFJ Ltd. "I would envisage some further dollar strength in the aftermath of the first hike but for the very short term we are done. Post-hike on the 16th of December, markets will probably look more seriously at the way 2016 is priced."
Before it's here, it's on the Bloomberg Terminal.
LEARN MORE