Portugal Seeks Leader as Coelho Government Ousted After 11 Days
by and
Premier Coelho's government fell after vote in parliament

Socialist leader Costa wants to lead next minority government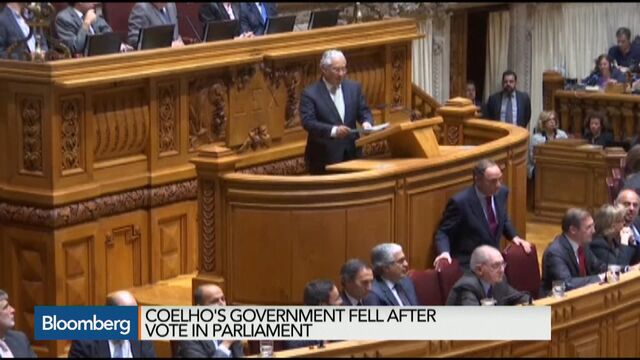 Portugal is seeking a prime minister again.
Eleven days after President Anibal Cavaco Silva called for stability as he swore in a minority government, Prime Minister Pedro Passos Coelho was voted down by a loose alliance of left-wing parties. Now the head of state must decide what to try next.
Socialist leader Antonio Costa is urging Silva to let him head up a minority government with the support of the Left Bloc, the Communists and the Greens, his allies in Tuesday's parliamentary revolt against Coelho. But the 76-year-old president could also opt to seek an alternative, or even ask his former party colleague Coelho to continue as caretaker. Portuguese bonds were little changed on Wednesday, the first trading session since vote.
Coelho, now a caretaker premier, holds a weekly meeting with the president at 4:30 p.m. Portuguese law prohibits repeat elections until six months have elapsed from the inconclusive ballot on Oct. 4.
Although the Socialists have a smaller delegation in parliament than Coelho's coalition, Costa said Tuesday that his allies have guaranteed to give him a stable majority. He's promised to roll back some of the austerity measures that Portugal's European creditors demanded as a condition of its 2011 bailout.
"Portuguese political developments need to be placed in the context of the push back against austerity" in France, Italy and Spain, Marc Chandler, global head of currency strategy at Brown Brothers Harriman & Co. in New York, said in a note to clients. "There are differences among the left, but there is a joint distaste for the austerity that the creditors demanded in exchange for aid."
Constitutional Duty
Portuguese 10-year bond yields edged down by a basis point to 2.76 percent at 10:07 a.m. in London, still lower than the four-month high of 2.91 percent reached on Monday. After peaking at 18 percent three years ago at the height of Europe's debt crisis, the yield fell to as low as 1.5 percent in March and was at 2.3 percent just before the election.

"Parliament has spoken," Costa said on Tuesday. "The parliament's will is clear. The president has the next word."
Under the Portuguese constitution, the president nominates the prime minister after consulting the other parties in parliament and taking into account election results. The presidency hasn't yet said when those meetings will be held.
"It's a purely political decision" that isn't vulnerable to a legal challenge, said Tiago Serrao, a senior associate specializing in constitutional law at the PLMJ law firm in Lisbon. Silva "has the democratic legitimacy" to decide.
After winning more than 50 percent of the vote in two straight elections, the president is due to step down in January following 10 years in office. He previously served as prime minister from 1985 to 1995 and presided over the 1992 signing of the Maastricht Treaty, which cleared the way for the euro common currency. He named Coelho prime minister on Oct. 22.
Against Austerity
Silva's successor at the head of the Social Democrats won the most votes in the Oct. 4 ballot but his coalition fell short of the majority it had held for the past four years as it steered Portugal through a financial rescue program that ended in 2014. His administration was toppled after Costa and his allies formed a majority to vote down the government's program.
While the Socialists requested Portugal's euro-area bailout and supported some of Coelho's efforts to comply with the terms, Costa now plans to reverse state salary cuts and bolster family incomes. His program includes a gradual increase in the minimum wage and a proposal to study changing income-tax brackets and taxing any inheritance of more than 1 million euros ($1.1 million).
The allies that he may now have to keep on board to deliver the promised stability have voiced more trenchant opposition to EU-mandated austerity -- the Left Bloc has said it wants to restructure Portugal's debt, while the Communists have said the country should prepare to exit the euro. The Socialist Party on Tuesday signed separate documents it calls "joint positions" with each of the three parties that it says would support its minority government.
"I don't believe in the cohesion of this new majority that is being announced," Coelho said in his speech in parliament before the vote on Tuesday. "It lacks identity, it lacks cement, so what is being announced is really a minority government."
Coelho's government wanted to orchestrate an export-led recovery and planned to ease austerity at a slower pace.
"Outside the European Union and the euro, the future of Portugal would be catastrophic," Silva said last month when he appointed Coelho.
Before it's here, it's on the Bloomberg Terminal.
LEARN MORE